Escape with Monarch to the beach in Birmingham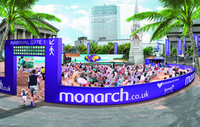 Birmingham in the UK may be land-locked, but this summer the city's residents and visitors will be able to escape to the beach – right in the heart of the city.
Between Friday 19 June and Sunday 13 September, award winning airline, Monarch will be partnering with Birmingham City Council and 96.4FM BRMB radio to host an urban beach which will transform the city centre location into an oasis of activity – all themed around Monarch's worldwide destinations.
Each week, The Monarch Beach will be focusing on a different destination or country, with visitors to the beach being invited to escape and sample the sights, sounds and tastes that best reflect that destination
Commenting on the new Monarch Beach, managing director of Monarch Flights and Holidays, Liz Savage said, "Monarch are thrilled to be sponsoring Birmingham's urban beach and are planning twelve weeks of inspired activity to enable visitors to experience a Monarch destination, without leaving their home city. From the beach we'll be transporting visitors to Spain to experience Spanish fiestas, tapas, flamenco dancers and sangria and then onto the Caribbean where carnival dancers, steel bands, limbo dancing and cocktails are the order of the day. With activities planned for all the family, the Monarch Beach is the perfect summer-time venue for everyone, and by September we really will have travelled around the world in 80 days".
Also commenting on The Monarch Beach, Cllr Ray Hassall, Cabinet Member for Leisure, Sport & Culture said, "Bringing back Birmingham's summer beach would not be possible without support from Monarch, and I am delighted they have come on board this year to ensure the return of this hugely popular attraction. This free attraction gives everyone a chance to enjoy a relaxing day on the beach with the sand between their toes, which will be particularly welcome for those who are unable to get away on holiday this year."
The Monarch Beach, the only one of its kind in the UK, is expected to attract over 150,000 visitors this summer. It covers 577 square meters, contains over 110 tonnes of sand and will include a stage to host live music and entertainment, the BRMB beach bar and café complete with open grill, plus deckchairs, tables, chairs and umbrellas to ensure the comfort of all visitors.
Full details on the weekly destination schedule and programme of events will be available on monarch.co.uk next month.