Air Astana's gift to children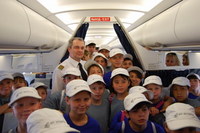 On the 11 June on the board of national airline's aircraft, Air Astana together with Voluntary Company of Mercy for Children's Summer Vacations promoted the actions of Air Astana's gift to children.
Seventy eight children from Orphanage 1 of Almaty district, for the first time in their lives, flew in an aircraft from Almaty to Balhash and return. The flight was not only fascinating and interesting but cognitive and liberalizing. The pilot of aircraft, Captain Igor Seguedin, spoke to the children about the arrangements of the plane and the different components. The children toured the cabin and cockpit and were given colorful gifts as satchels with pencils, notebooks etc, at the end of the tour.
Mr. Ashendra Liyanage, Vice-President of Sales and Marketing at Air Astana remarked "For Air Astana, this action is not only the part of merciful program but also the opportunity to show the children, the world of the aviation and all its components as planes, pilots and cabin crew. Probably in the future some of the children will decide to become pilots or air stewards of Air Astana, and we, on our part are ready to support them".
Air Astana is a full member of IATA and the only airline in Kazakhstan certified for aircrafts maintenance to European EASA/Part 145 standards.
Air Astana JSC is a joint enterprise of the Kazakhstan State Holding, Samruk and British company BAE Systems with share-holdings of 51% and 49% respectively.
Currently the Air Astana aircraft fleet consists of western aircrafts such as Boeing B767-300, ?757-200, Airbus ?321, ?320, and Fokker F50.