Air Astana revises services at Astana International Airport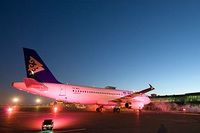 On 17 June 2008 at Astana's International Airport, Air Astana presented a new Airbus A-320, symbolizing the development of regional and international aviation at the capital of Kazakhstan. The Airbus A-320 registered number ?4-WAS, "Whisky" was delivered from Airbus premises in Toulouse city to Astana to mark the 6th anniversary of the airline and 10th anniversary of Astana city.
The new aircraft differs from its precedents with its improved design of the air show and renewed symbols, beside that it equipped with modern system of management of entertaining and SATCOM integral system, allowing to support the telephonic connection with the crew directly from the office.
In general by 2010, Air Astana is expecting to replace all of the Fokker-50 from its fleet. The increase of the quantity of air carriers at the International airport of Astana city will support the realization of the Ministry of Transport and Communications of Kazakhstan's plan for establishing the Astana airport as the biggest Aviation Technical Center in Central Asia and West Siberia.
Peter Foster, President of Air Astana remarked "This year Air Astana celebrated its 6th year of operation, and its first flight from Almaty to Astana. It is symbolic that on the 10th anniversary of the capital city of Kazakhstan, Air Astana plans major increases of flight frequencies from/to the International Airport of Astana. The presentation of a new aircraft in Astana is our gift to the capital city of Kazakhstan. In July we are expecting the arrival of one more Airbus A-320 and in September Airbus A-319. 11 of June the document about purchasing 6 more aircrafts from Airbus A-320 series were signed.
"Financial support of the purchase of the aircraft will be funded by the company by itself without using State warranties and without using finances from the State budget. All this tells us that the company is working by making plans in order to achieve its goal – to increase its aircraft fleet of aircraft to 63 by 2022 and become the leading airline in CIS".