Lufthansa named number one for punctuality at Heathrow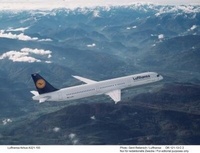 Lufthansa is officially the most reliable airline operating from London Heathrow Airport following the publication of Punctuality Statistics for 2007. The figures for the 30 largest scheduled airlines serving Heathrow show that the average delay on Lufthansa's 20,810 flights during the year on was just 12.22 minutes. This is more than seven minutes less than the average delay at the airport.
Welcoming the news, Marianne Sammann, Lufthansa's General Manager UK & Ireland, said:
"This simply reinforces Lufthansa's world renowned reputation for reliability and high service standards and shows why we are continuing to see exceptional passenger growth within the UK & Ireland. 2007 was another record breaking year for Lufthansa as we set a new airline record for passengers carried to and from the UK & Ireland for the second successive year.
"We know that huge numbers of passengers, particularly business travellers, see reliability as another part of the added value they receive from a Lufthansa as a full service airline. When they book with us, they are confident that we will do everything possible to ensure their flight operates on time. This is particularly reassuring for passengers making onward connections through our main hubs of Frankfurt and Munich, as well as our developing mini-hubs at Dusseldorf and Hamburg."
The 2007 statistics are available at Flightontime.info and sourced directly from the UK Civil Aviation Authority (CAA).