Lufthansa launches mobile services in UK and Ireland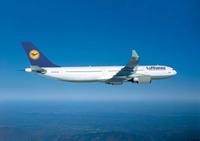 Lufthansa has chosen the UK and Ireland as a key launch market for its pioneering Mobile Services product. Now, by simply using their mobile phones to access the new portal, mobile.lufthansa.com, passengers can quickly book flights, check in and select their seats on an interactive seat map, even when on the move.
Additional features include actual arrival and departure times, flight schedules or mileage summaries. Individual booking summaries are also readily available.
"Selecting the UK & Ireland as one of the initial launch markets outside Germany shows just how much we value our customers here" says Marianne Sammann, Lufthansa General Manager UK & Ireland.
"I am sure this new service will prove to be invaluable, particularly to business travellers. Especially as, under the heading "Information", users can not only find actual flight information but other relevant travel information such as public transport arrivals and departures, airport buses and rail connections, or book hotels via Lufthansa's partner, HRS. Additional important information concerning baggage regulations as well as a worldwide lounge directory with locations and hours of operation can also be accessed."
The Mobile Services portal can be accessed via an internet capable mobile. For flight bookings, passengers also require a Miles & More card number and PIN or a Lufthansa profile. A profile can be easily created at Lufthansa.com.
Further information on the new mobile portal can be found under lufthansa.com/mobile/uk. From here, a direct link to the mobile portal can be sent free-of-charge via sms to a passenger's mobile phone.