Airborne ambassador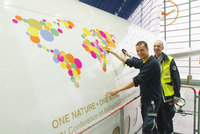 A map of the world made of multicolored dots and the slogan "One Nature – One World – Our Future" is the logo that has adorned the fuselage of the Lufthansa Boeing 747 named "Bonn" since the end of March 2008. As airborne ambassador, this aircraft has meanwhile been drawing attention around the world to the UN Conference on Biological Diversity to take place in Bonn from May 19 to 30.
Lufthansa, as a "Naturallianz" supporter, informs in various ways about the upcoming conference and the necessity to protect biological diversity.
In addition to the logo display, advertisements and articles in internal and external media, Lufthansa also shows the "Naturallianz" spot and its own short species protection film "Fascination Nature" as part of its in-flight video program.
Furthermore, the bilingual brochure "Biodiversity – the very basis of life: Lufthansa assumes responsibility" will be offered aboard all aircraft during the months of April and May. In this way, passengers can find out more about the topics of biodiversity, the UN Conference on Biological Diversity and the activities of Lufthansa's Environmental Sponsorship Program.