German National Tourist Board teams up with Lufthansa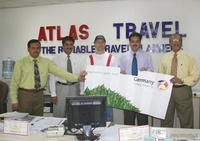 German National Tourist Board (GNTB) and Lufthansa Airlines have together announced a competition for travel tour operators across the Eastern Province in Saudi Arabia.
Registration for the competition will commence from 16-20 August 2008. During this period, representatives from Lufthansa Airlines, sporting GNTB outfits, will visit various travel agencies across the Kingdom's Eastern Province. There are two elements to this competition, the first for the travel agent who sells the highest number of trips to Germany.
The travel agent who acquires the maximum number of flights to Germany will win free travel packages to Germany that includes flights and accommodation, free tickets and much more. Additionally, the Travel Agency that sells most flights to Germany will be honoured with a Best-selling Office Award. The competition phase will commence on 1 September 2008 and will conclude on 31 October 2008.
In recent years Germany has emerged as a major European tourist destination and there has been a discernible increase in the number of visitors, business and tourists alike, to Germany from the GCC. Germany has a lot to offer families and business visitors - from luxurious spas, wellness centres, nature and theme parks to stunning vistas, merry festivals, sight-seeing trips, shopping excursions, fascinating art and engrossing activities like skiing and hiking.
Lufthansa Airlines is the only European carrier that covers the main international gateways across the kingdom with daily flights from Riyadh, Jeddah and Dammam to numerous German destinations. All Lufthansa flights operate with a three-class onboard service. With its First and Business Class, Lufthansa offers definitive travel catering to accommodate the needs of premium passengers. In Business Class, passengers can conveniently relax in comfortable sleeper seats, indulge in menus designed by renowned chefs and choose from a wide array of in-flight entertainment.
Mr Schaher Murad, Regional Manager for Lufthansa in East Province KSA and Bahrain commented, "Germany is one of the top European destinations for visitors from this region and this competition will serve to further boost the passenger volume to Germany. Business and leisure travellers can take advantage of our wide and diverse network of routes from Saudi Arabia and Bahrain to various destinations in Germany. Good luck to all the participating travel agencies!"
For more information, log on to Germany-tourism.de.