Lufthansa launches new Lufthansa Italia brand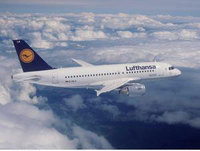 Lufthansa is launching its new "Lufthansa Italia" brand in Italy this week. The new airline blends traditional Lufthansa values, notably reliability and high quality, with Italian flair. With an initial fleet of six aircraft, Lufthansa will be offering the best of connections from major European destinations to northern Italy from February 2009, including a new non-stop, four times daily service from London Heathrow to Milan Malpensa, operating from the end of March 2009.
Lufthansa is to found its own Italian airline under the new brand early next year and apply for an Italian Air Operator Certificate (AOC). "Lufthansa Italia will position us in an important market characterised by strong demand, which also holds out opportunities for buoyant growth in the future. We will be offering our customers an extensive route network of flights from major European cities to northern Italy, an area which ranks amongst Europe's economically most important and strongest regions," said Lufthansa CEO and Chairman Wolfgang Mayrhuber.
Flights from Barcelona and Paris (Charles de Gaulle) to Milan Malpensa will be operated from 2 February 2009 with flights from Brussels, Budapest, Bucharest and Madrid to be added to the timetable four weeks later. Flights from London (Heathrow) and Lisbon to Milan will be brought into the network with the start of the 2009 summer timetable at the end of March.
"With the introduction of our new flights to Milan, we will be able to offer our UK customers a convenient and frequent non-stop service with the usual high Lufthansa quality," said Marianne Sammann, Lufthansa's General Manager UK & Ireland.
"Lufthansa offers a range of highly competitive fares for both business and leisure travellers. We will be offering one way Economy fares from London to Milan from just £49, with Business Class return fares starting at £619, inclusive of all taxes and charges."
The new flights are already available for booking under lufthansa.com.
An Airbus A319, seating 138 passengers in Business and Economy Class, will be operating the flights under the Lufthansa Italia brand. The discreet cabin design betrays its Italian origins. The passengers will be served by Italian flight attendants with Italian delicacies adding a note of originality to the in-flight menu.
In cooperation with the Milan Airport operator SEA, the infrastructure at Malpensa Airport will be successively upgraded to provide Lufthansa passengers with more service and comfort at the airport including an enhanced lounge product and fast- track passage through security (available from Spring 2009).