Hot holiday homes 2007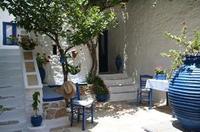 The New Year property hotspots have already been touted but, before you buy check out the competition by staying in a holiday home in the region of choice.
Thinking of buying abroad? Ross Elder, MD of holidaylettings.co.uk shares advice with potential overseas property investors: "In a recent survey of our holiday homeowners we found many people saying they had bought in a specific location because they thought they knew what they wanted. This suggested that the decision was made at personal and emotional levels rather than based on the practical issues involved when letting out the property.
"As the EU expands and property markets open up, we advise buyers to think carefully about their reasons for choice of location. Decide whether you are buying for personal use or investment/rental returns and try not to merge the two options. If you need to rent out the property to cover mortgage repayments, be realistic about how much time you can spend there yourselves. If it is eventually your intention to move to the property at retirement, consider if the property will still be suitable when this time arrives. Don't forget the potential of capital return on investment now and the possibility of up-sizing in years to come.
"We recommend that prospective investors spend some time in a holiday home in the region that appeals to them. Absorb the culture and lifestyle of the community, assess the transportation links, local amenities and activities available to keep you and guests occupied. Visit a local agent and suss out the demand for holiday rental accommodation, size of current rental properties and prices charged."
With this in mind, where should you be looking to get in ahead of the pack? According to Assetz®, Cyprus, Greece and the UK are the property hotspots in 2007. If you can afford the initial investment in the UK there is always a demand for holiday cottages whether the sun is shining or snow is falling. If you are looking for a lower input and greater return on investment, Cyprus's hopes of a tourism boom are geared around Turkey opening up routes to a port and airport to Cypriot traffic.
Greece and Cyprus are most commonly associated with package holiday trips, hence they offer potential for property and holiday home investment as this aspect has yet to be exploited there.
A study by the Institute for Public Policy Research (IPPR) showed Germany to be the fourth most popular country for property investment. After years of decreasing house prices; an influx of foreign buyers and economic reforms has given the German economy a most welcome boost. Assetz® reports that only 43% of German nationals own their own home, hence there is a significant gap in the domestic housing market, which will no doubt attract foreign investors, especially when prices start from as little £137,000.
Ross considers another option: "The weakness of the US Dollar and the strength of the Pound may also make the US housing market affordable for the first time for many non-residents. Property in the USA is never cheap, but the finished product is always on a grand scale with detailed finishing touches and features. Despite fluctuations in this market, it could offer prospects to the right buyer."
If you're thinking of a short trip to make some investment assessments holidaylettings.co.uk have a wide selection of properties in Germany, Greece, Cyprus and the USA, not to mention 76 other countries around the world. Here's some to get you started:
Ayia Thekla Villa, Famagusta District, Cyprus holidaylettings.co.uk/7213
LemonTree House, Peloponnese holidaylettings.co.uk/11713
Haus Sterr 4, Bavarian Forest holidaylettings.co.uk/17154
Harbor House Condos, New Hampshire holidaylettings.co.uk/12703