The Caribbean to Kenya – Weddings abroad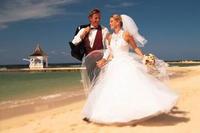 It's official, the Caribbean is the most popular choice when it comes to getting married abroad with St Lucia, Barbados, Tobago and Antigua all featuring in the top five destinations, according to wedding abroad experts, Tropical Sky.
Since launching their wedding collection a year ago, statistics show St Lucia as the number one destination with over 25% of the weddings co-ordinated by Tropical Sky taking place there. The top hotels hosting weddings in St Lucia were Almond Morgan Bay, Almond Smugglers Cove and the Rendezvous.
Kenya, at number two with 18% of the weddings, is the only non-Caribbean country featured in the top five. Its most popular hotels for getting married at were Pinewood Village and The Cove Retreat.
Barbados came in at number three with 15%, Tobago fourth with 12% and Antigua just behind with 11% of the weddings co-ordinated by Tropical Sky.
Tropical Sky's commercial director, Steve Garley, says, "The Caribbean has always been a popular destination for weddings; it's easy to get to, has great weather and has many two-centre options for those who wish to honeymoon on a different island. Kenya is also an excellent choice as it offers a breathtaking backdrop for a wedding coupled with the diversity of getting married in a game reserve, tree-house or in a balloon for those that want it!"
Steve continues, "Other destinations that are becoming increasingly popular include Mauritius, Thailand, Sri Lanka and Bali. With many wedding abroad bookings piling in, I expect the leader board to change quite considerably in 2008."
With years of experience arranging these momentous occasions, Tropical Sky's co-ordinators can offer the expert advice and personal attention that is needed for the trip of a lifetime. For further information visit Tropicalsky.co.uk/weddings.