Soul safari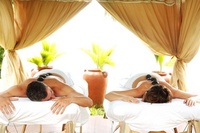 Feeling stressed with all this talk of recession, credit crunches, acquisitions and liquidations? Look no further! Africa offers some amazing spas and health facilities to soothe and pamper mind, body and soul. Read on for hot 'n happening African spa escapes - from soul safaris and bush spas to world-class tropical island paradises.

African people have known the powers of nature's healing for centuries and the African Spa concept almost always uses nature as part of its offering – whether it's the setting, the natural products used or the treatments. Old African healing traditions, home-grown treatments and products, in addition to the modern-day technologies used at some of the best wellness retreats in the world -make an African Spa experience something truly uplifting and memorable.

Some African Spas with a difference include...

Indigo Bay Island Resort and Spa - MOZAMBIQUE

The lavish Indigo Bay Island Resort and Spa on Bazaruto Island has more than beaches and diving to thank for its reputation as the top luxury beach resort in Mozambique. In November 2007 it opened a brand new Sanctuary Wellness Spa overlooking the ocean and boasting 4 Dry Treatment rooms, a wet Treatment Room with Hydrotherapy capsule, a Hydro Pool and Ice Pool. Signature treatments include Moya Crystal Massage, Elemis spa rituals and Rasul. Raniresorts.com.

Serena Beach Maisha Health Spa - KENYA

The Mombasa Serena Beach Hotel on Shazu Beach, north of Mombasa in Kenya opened its new Maisha Spa (Maisha meaning 'life' in Swahili) in May 2007. Facilities at the spa include four single treatment rooms and two divisible treatment rooms all with their own shower amenities, two plunge pools, two saunas, two steam rooms, a yoga/meditation room and a hair and beauty salon. A wide range of Elemis treatments and packages will be available and signature treatments will range from deep tissue massages to 'ritual coconut milk' body wraps – all using all-natural essential oils and sea extracts etc. Serenahotels.com.

Mont Rochelle Wellness Centre – Franschhoek Winelands, SOUTH AFRICA

The Mont Rochelle Wellness Centre in the heart of the Cape Winelands offers spa treatments and pampering sessions to revitalise the minds and spirits of guests wanting to stay in absolute luxury on a working wine farm. Massages are offered in 2 treatment rooms, one of which is a double for couples to enjoy together.

Massages are 45 minutes long and therapists will tailor this to clients' requests on the day, using essential oils and lovely soothing background music to enhance the experience. Afterwards guests can lie back, and enjoy complimentary fruit skewers and fresh juices.

The wellness centre also has a chill room for pure relaxation, as well as a Jacuzzi and sauna, with views into a Zen garden and the Franschhoek mountains beyond the window. The spa is not open to the public, and only caters for the wellness of hotel guests. Massages can be pre-booked or arranged during your stay at the hotel. Therapists are carefully selected for their expertise, and request only 1 hour's notice when booking. Montrochelle.co.za

Garonga Safari Camp and Little Garonga – Limpopo Province, SOUTH AFRICA

Garonga is an exclusive 12-bed tented safari camp situated west of Kruger National Park in South Africa's Limpopo Province. Garonga's holistic philosophy is to offer a 'safari for the soul'. An unhurried and intimate wildlife encounter with some of Africa's big game, but with the emphasis is on relaxation. There can be no better way to unwind, than to be pampered by the resident aromatherapist and reflexologist at the bush sala / spa, while gazing over the nearby waterhole.

This outdoor, thatched Aromatherapy Sala is a tempting place to lie and meditate for hours, whilst enjoying treatments such as Indian head massage, Hot Stone Therapy (Winter only), or the Honeymoon Couple Instructional massage. Little Garonga, the nearby camp with 3 suites, ideally suited for exclusive use, also has its own bush sala. Both camps also share a romantic bush bath beneath the stars in a clearing in the veldt. Garonga.com.

Ghost Mountain Inn – Zululand, KwaZulu-Natal, SOUTH AFRICA

At the foot of the legendary Ghost Mountain in Mkuze, northern KwaZulu-Natal lies within the privately owned 4 Star Ghost Mountain Inn - a perfect setting to experience the allure of Africa in stylish comfort. The Inn boasts its own Spa where guests can pamper their bodies, revitalize their minds and leave with a renewed sense of well-being, after a day of exploring the areas game reserves and attractions. Highly qualified therapists offer massages, facials, manicures and luxurious body treatments including decadent body wraps with ingredients ranging from herbs and clay to fizzy cocoa bean.

Algologie products contain the proven natural anti-ageing benefits of algae and are lightly fragranced with the purest of essential oils. There is also a fully equipped gym, steam room and a relaxation area with a rock pool. Ghostmountaininn.co.za.

Pemba Beach Hotel and Spa – MOZAMBIQUE

Pemba Beach's magnificent Sanctuary Spa adjoins Clube Naval on a site that seems to hover magically above the Indian Ocean. Occupying more than 500 square meters of sumptuous space, the spa's hot and cold treatment rooms, steam rooms, saunas and showers are designed to merge indoor and outdoor pampering against a backdrop of the shimmering Quirimbas ocean. An array of treatments, from Swedish massages, to milk baths, body brushes, body wraps and facials are designed to restore even the most jaded city soul.

The Sanctuary Spa Group, has fine-tuned its offering here to reflect Pemba's Arabic and African influences. Three full time therapists are on hand to pamper you with frangipani extracts from Elemis, or indigenous fynbos from Moya, "the African antidote to modern living". Exploiting the powers of Cape Fynbos, Moya blends Chamomile, Geranium, Snowbush, Lanyana and Buchu into a heady range of treatments designed to impart African energy, goodness and vitality. Cosseted by such pampering, you may sink into an idyllic realm of self-indulgence from which you may never return. Pembabeachresort.com.

Nairobi Serena's Maisha Mind, Body & Spirit Spa - KENYA

Serena's original Maisha experience! Facilities include lavish spa treatment rooms, separate ladies and gents steam rooms, saunas and jacuzzis, a fully equipped modern gym and aerobics/yoga studio, heated swimming pool, juice bar and relaxation area. The spa offers a wide range of treatments that are specifically tailored to the individual's needs. Some utilize the renowned ELEMIS range of scientific skin therapy treatments, whilst others are handmade by Serena's therapy team using local fruits, flower oils, medicinal herbs and fruits of the sea.

The Maisha range includes body treatments, massages, spa rituals, Elemis hand and feet rituals, facials, grooming and a range of therapies "Just for men". Some of these have lovely Kenyan flavours such as the Exotic lime and ginger salt glow ritual and the Maisha coffee scrub. Serenahotels.com.