Swim with Barbados' sea turtles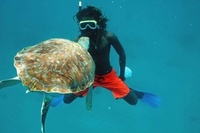 Barbados is sanctuary to a healthy population of hawksbill and leatherback turtles. These sociable creatures were once endangered by over-fishing but are now protected by The Barbados Sea Turtle Project (BSTP) who actively promotes awareness about sea turtle conservation.
Described as "The Rolls-Royce of catamaran excursions" – 'Cool Runnings Catamaran Cruises', voted 2nd most popular attraction in Barbados, specialise in personalised day, sunset and private cruises, ensuring the utmost in comfort, service and enjoyment. These elegant, custom-built catamarans sail with a limited number of passengers onboard, to guarantee a superb day of sailing in an uncrowded atmosphere.
Owners, Robert and Annika Povey, run a professional operation - this is apparent from the moment you step aboard, taking your shoes off for a day barefoot - the captain and crew are a good humoured group of well-trained, experienced sailors who know how to look after, and entertain, their guests; the boats are immaculately maintained, spacious and comfortable, and the atmosphere is friendly and relaxed. An open bar from the moment you step on board will treat you with soft drinks, coffee, or a rum punch and other alcoholic beverages, and the most delicious home cooked bajan buffet lunch.
Cool Runnings offers a 5 hour snorkel lunch cruise with three stops along the way up the beautiful calm and tranquil waters of the west coast (or "Platinum Coast") of Barbados in the Caribbean Sea. The North East trade winds are comfortable for sailing and the colour of the sea is unforgettable. Snorkel with the friendly sea turtles while expert staff will feed them in front of your eyes, explore a shallow shipwreck where you can see schools of tropical fish or swim in a secluded bay by a beautiful sandy beach.
Barbados is a coral island, and its beaches are formed from finely ground coral. With an underwater camera you can capture all the colours of the fish and the excitement of swimming with the turtles.
The 4 hour sunset cruises are a wonderful and romantic way to enjoy a dazzling tropical sunset and include a stop for a swim and snorkel on a shipwreck. Cruise with your partner, your family or just on your own with the rest of our guests for some great sailing.
Private cruises which are ideal for corporate entertaining, celebrating those special occasions or simply when you want the peace and privacy of a catamaran for your own personal skippered cruise.
Cool Runnings cruises depart from the Careenage in Bridgetown. A normal day cruise starts around 9.30am and returns by 2.30 in the afternoon. Costs include transportation arranged for guests to and from their hotels to the Careenage – a day cruise including lunch is USD 85, and BDS 170.
For more information, log on to Coolrunningsbarbados.com.