Whale watching in Dominica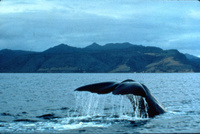 The island of Dominica is known as the whale watching capital of the Caribbean. It is the only country in the world to have sperm whales resident in its waters all year round; and twenty-one other species of whale and dolphin have also been spotted around the island. Tour operator Out of the Blue is offering a brand new trip to see these incredible mammals in 2009.
The nine-day trip takes place in peak whale watching season, April, when there is a good chance of seeing nursery groups of female Sperm Whales with their young calves. Guests may also see Dwarf Sperm Whales, Bryde's Whales, Humpback Whales along with Spinner and Pantropical Spotted Dolphins, Bottlenose Dolphins and Risso's Dolphins.
The whale watching will take place on a 20-metre catamaran that Out of the Blue has chartered for the trip. The vessel has an onboard hydrophone so guests can listen to the underwater echolocation clicks of whales and dolphins. With very deep waters surrounding the island, whale watching in Dominica is available close to the shore, minimising sailing time.
Along with the whale watching excursions, the trip also includes a full day tour of the island; a visit to the Carib Indian Territory; and time to explore the rainforest in search of parrots, hummingbirds and other wildlife.
Out of the Blue's nine-day trip to Dominica departs on Saturday April 18th 2009, costing from £2,449 per person. This price includes flights; airport transfers; seven nights' hotel accommodation; some meals; island excursions by private mini bus; and chartered catamaran whale watching trips.
For more information and reservations, log on to Oceansworldwide.co.uk.
For more information about Dominica visit Discoverdominica.com.