Slovenia's oldest town to host unusual folklore festival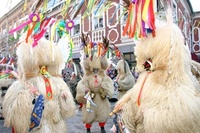 Slovenia's oldest town, Ptuj (pronounced Petooey), will host the annual Kurent Festival between 6th and 16th February. The ten-day traditional event is intended to banish winter and to welcome the arrival of spring.

The main celebrations take place during the weekend of 13th February when Kurenti dressed in distinctive sheepskin costumes adorned with feathers, horns, ribbons and cow bells, parade through the streets, clanging instruments to ward off evil spirits.

Considered to be the country's most important carnival, the Kurent includes many musical and artistic events, street theatre plus a masked ball, as well as the weekend carnival parades, when revellers smash clay pots on the ground to bring good luck and health.

Specialist tour operator, Just Slovenia, has three nights from £370 per person including flights from Stansted to Ljubljana on 11th February, car hire and bed and breakfast accommodation.

Visit justslovenia.co.uk for further information.