Vietnam opens longest cable car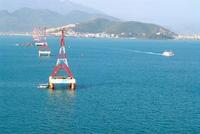 The long wait of the longest cable car to cross the sea in the world with 3.310.06 meters long, is finally over, the first official test trip from Nhat Trang to Vinpearl Land is scheduled to be performed on February 14th and based on international security standards there will be 100 hours of testing time to assure the safety of this unique attraction in Vietnam.
During the required testing time the cable car will be carrying 1 ton of sand, the equivalent of 1.5 times 8 passengers in each of its 47 cabins, after which the cable car will be able to transport passengers, enabling them to reach the island in only 9 minutes and to enjoy the post card surroundings of Nha Trang Bay.
Mr. Vu Huy Thang, chief engineer of Vinpearl Land said: "all the international technical safety standards have been applied to build this cable car, the only one in Vietnam and all the standard of other cable car's system in the world have been followed; together with all the latest technology to assure that everything will be perfect".
Having the shape and structure like the Eiffel Tower the system is lightened by laser systems at night, the nine pillars structure on the sea and ground have 64.85 meters height for the highest pillar, being 8 meters from the sea's surface to foundation, 54.65 meters from the foundation to the top pillar and 2.2 meters from top pillar to main beam with an average height of 40 meters.
The first official trip transporting passengers is foreseen to happen on February 24th, adding yet another plus to the many attractions in Vinpearl Land.
About Vinpearl Land: Located on Hon Tre Island off the coast of Nha Trang City, in southeastern VietNam, considered one of the top 29 most beautiful bays in the world. Vinpearl Land is a unique destination and holiday experience, offering a 5 Star Resort & Spa, Sofitel Vinpearl Resort & Spa, the biggest amusement park in VietNam, Vinpearl Amusement Park, Food Village and Shopping Mall all surrounded by white sand beaches and turquoise sea, backed up by a range of hills and tropical greenery, where you'll find everything you'll ever wanted for the perfect vacation… and the certainty of 300 days of sunshine per year.