Don't just revise history - re-live it with English Heritage!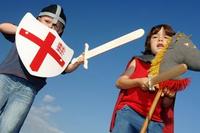 This summer English Heritage is offering a range of activities across the country that are designed to put the "cor!" into core curriculum. From the Scottish borders all the way down to the south coast, children will be able to acquire skills beyond anything they typically learn in the classroom.
"Using a longbow? Learning how to be a 'Fool', a Medieival knight or a Roman soldier? These aren't the kind of things you learn in Period 3 on Wednesdays in Classroom C," said Nicole Dobbin, Events Marketing Manager, at English Heritage. "Our Alternative Summer Schools bring together a number of very different activities in the wonderful settings we have to offer. They're exciting. They're absorbing. And most of all, they're fun.
Young people can learn how to be a member of Dad's Army – the Home Guard of World War II – at Scarborough Castle. They'll also be instructed in the skills essential to be a swashbuckling pirate, a Roman soldier or one of Robin Hood's Merry Men and Women.
At Audley End in Essex, Kenilworth Castle in Warwickshire and Bolsover Castle in Derbyshire, children can train to be a fearless knight. Audley End is also putting on a 'Fools School' so youngsters can brush-up on the art of tom-foolery and pick-up some jesting skills.
Battle Abbey in Sussex is offering the chance to step back in time and join the Hastings Boot Camp where children can enlist into Harold's or William's army and go forth into battle!
Kenilworth Castle, Bolsover Castle in Derbyshire and Audley End are inviting the whole family to try their hand at the ancient skill of firing a longbow. Will Dad win, or maybe Mum's got a better aim?
"These are great days out," said Nicole Dobbin ''There's dressing up, learning how to play games from the past and, an awful lot of running around shouting and getting dirty - they'll definitely give the kids something to talk about when they get back to school this autumn. We defy anyone not to enjoy themselves!"
For a free diary of all events visit English-heritage.org.uk for further details.
Events are free or reduced price for members.