Family fun in North East England this summer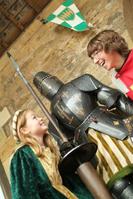 Are you looking for a short-break to help entertain the kids during the long summer break without spending a fortune? North East England not only has a multitude of activities, attractions and events to keep the youngsters as well as you entertained but it also has some fantastic deals on child-friendly accommodation.
With 15% off selected serviced accommodation and £50 off self-catering accommodation at Visitnortheastengland.com/save there's something for every budget.
And if you're saving on your stay it gives you more time to explore our fantastic events and activities.
So whether your little ones fancy themselves as the next Harry Potter or as a Roman centurion they can do it all in North East England.
As the setting for Hogwarts in the first two Harry Potter movies Alnwick Castle is also the perfect place for aspiring knights to join the Knight School. Children can dress up in clothes of the time, learn the art of swordsmanship and joust and play games. There is an extensive summer programme of events at the castle including the chance to watch some of its famous characters perform magic and wizardry.
A family visit to North East England wouldn't be the same without a trip to Hadrian's Wall World Heritage Site. Once an imposing frontier it is now a vast network of Roman forts and contemporary museums, offering children the chance to dress as a Roman centurion or meet a Roman soldier with events running throughout the school holidays.
If it's an active family holiday you're looking for head to the region to take advantage of the miles of cycle routes which stretch across the region. You could head to Hamsterley Forest in County Durham where the Hamsterley Trailblazers offer family activity bike rides either for single days or whole weekends.
You can also explore the natural environment and watch out for wildlife as you ramble through the stunning countryside or coastline. And when you're by the sea why not take time to enjoy the many beautiful stretches of golden sands, including Durham's Heritage Coast; the Northumberland Coast, which is an Area of Outstanding Natural Beauty; the vibrant beaches of Tynemouth and Whitley Bay in Tyne and Wear and Saltburn-by-the-Sea in Tees Valley with its Victorian water-balanced inclined tramway.
And there's plenty for you to do indoors as well such as the fantastic Seven Stories – The Centre for Children's Books in Newcastle which explores and celebrates our rich heritage of British children's books. Exhibitions over the summer includes Snozzcumbers and Frobscottle which brings to life the wonderful books of Roald Dahl in what is a rare chance to see original manuscripts and Quentin Blake's illustrations.
There's also Bowes Museum in County Durham, which was designed as a museum and contains one of the country's greatest private collections of fine and decorative art. The new Streatlam Galleries, which opened on March 31, are aimed at a family audience and offer an introduction to the museum and its collections using child friendly interpretation and activities. The museum also offers a range of Family Fun Days as well as an annual lantern making and parade event.
For more information on North East England and how to take advantage of the fantastic deals on accommodation go to Visitnortheastengland.com.