Key Largo hosts underwater pumpkin carving contest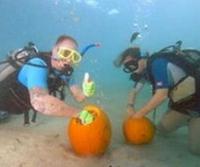 Though ghosts and goblins only attend in spirit, the annual Underwater Pumpkin Carving Contest, set for Saturday, Oct. 20, at Amy Slate's Amoray Dive Resort in Key Largo, kicks off the Halloween season with an assemblage of jack-o-lanterns that have been known to scare the local damselfish silly.
Each year, diver teams descend to the sandy bottom adjacent to one of Key Largo's beautiful reefs. Knife in hand, these skilled sculptors of the scuba world compete for the coveted carvers' crown.
The contest is open to all certified scuba divers and is slated for the morning dive out of Amoray, mile marker 104.5 bayside.
Contestants receive a hollowed-out, eco-friendly pumpkin from which they create a scary, funny or just plain ghoulish jack-o-lantern. Extra points are awarded if the judges detect chuckling damselfish.
Previous success is not an indicator of future performance in the contest. Judges are forbidden from taking small bribes.
Space aboard Amoray's dive boats is limited and is booked on a first-come, first-served basis.
There is no contest entry fee - just the regular dive boat fee of $70 per diver for the two-tank dive. Amoray is offering special packages for contestants.
For more information and to sign up e-mail amoraydive@amoray.com.
For further information visit Fla-keys.co.uk.