Connect with the spirit of Glastonbury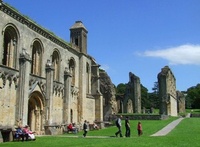 A new exhibition at Glastonbury Abbey examines the life of Victorian eccentric and archaeologist Frederick Bligh Bond, whose groundbreaking work established Glastonbury as the home of English spirituality.
Coinciding with the Summer Solstice and Glastonbury Festival, the exhibition 'The Oddest Little Gentleman; Frederick Bligh Bond and the Glastonbury Excavations' from June 1 to August 31, marks the centenary of Bligh Bond's appointment to the Abbey and looks at his achievements and discoveries against the backdrop of the times.
Francis Thyer, Deputy Custodian at Glastonbury Abbey, said: 'The Abbey is at its most serene in the summer months and this centenary exhibition of Bond's work at Glastonbury Abbey provides a spiritual escape from modern-day excesses.
'We welcome visitors to reconnect to the essence of Glastonbury by discovering more about the fascinating character of Frederick Bligh Bond and his trailblazing archaeological work'.
Bligh Bond was a scholar, an architect and antiquarian who became the Abbey's first official archaeologist in 1908, after the ruins were placed in the hands of the Church of England.
It was his discoveries that started talk of King Arthur's grave and a mystical visit from Joseph of Arimathea, which put the town in the nation's consciousness forever.
The recent discovery of lost archaeological papers has shed new light on the man and the discoveries he made at Glastonbury Abbey, including the Saxon Cross fragment that later inspired the town's war memorial.
It was Dorothy L Sayers, the leading novelist, who said of Frederick Bligh Bond: 'He is the oddest little gentleman; he sits and talks about archaeology, the fourth dimension and the mathematical relation of form to colour, till you don't know if you are on your head or your heels'.
For more information visit the abbey's website at Glastonburyabbey.com.