Witness Hungary's unique folklore tradition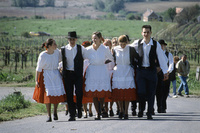 The Bakony Hills in the Transdanubian Region is to host its 10th 'Brigand-Days' festival which is a three day programme of events from Friday 8 to Sunday 10 August for tourists, intended to preserve the regions historic past and tradition and draw people's attention to their love of nature and horses.

The name of the festival is connected with the folklore word 'brigand' that means outlaw and is a rich programme of events that provided visitors with a colourful and interesting insight into the fascinating and unique folklore culture and tradition in this area that dates back centuries.

Events include food competitions, craftmen's activity, horse beauty contest, show jumping and county steeplechase contest plus folk music, dance and story telling. There are also lots of children's programmes, a children's drawing competition and fireworks that make this a very entertaining festival for families.

There will also be a folk trade show and fair, stalls selling typical local dishes from Bakony, a fun park, pleasure flights plus a local history exhibition.

The Transdanubian region covers the area to the west of Budapest and borders the River Danube to the north and east and up to the Alps and the Austrian border. The festival takes place in Zirc, a town that was founded in 1182 and is only a 30minute drive from the town of Balatonfüred on the shores of Lake Balaton.

Getting there
Fly to Budapest (2 hour drive to Balatonfüred) from many UK airports or to Fly Balaton Airport with Ryanair from Stansted. Stay at the three star Hotel Marina (danubiushotels.com) on an all-inclusive basis from £434 per person for seven nights in August. The hotel is ideally located on the lakeshore and offers great facilities including its own beach, many sports and special children's programmes.

For further information on Hungary visit Gotohungary.co.uk.