Travelguru.tv films spooky goings on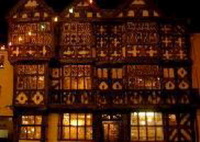 Those fascinated by phantoms, curious about the uncanny and spellbound by the paranormal should look at the evocative video of UK holiday company Haunting Breaks on travelguru.tv.
The company features overnight stays in historic locations throughout the country and the travelguru.tv team went along to The Feathers Hotel in the heart of the ancient market town of Ludlow to see and film the experience.
Haunting Breaks' short stays include the added thrill of a unique professionally run paranormal experience where guests learn about crystal protection, the ancient art of dowsing, table tipping, glass divination and seances. Each group has its own psychic who, with a combination of scientific and psychic methods, will try and attract the supernatural beings reported to haunt the venue.
Interested parties can watch the video and take advantage of special offers at www.travelguru.tv Introduced by travel expert Cathy Bartrop, viewers can see and hear what other guests find so appealing about these spooky breaks. Travelguru.tv's exclusive, broadcast quality video report plays directly onto the computer screen using the latest streaming technology and is available free and on demand.
The Feathers Hotel is internationally recognised for its beautiful Jacobean architecture and medieval heritage. The oldest part of the hotel was built in 1619 and has always attracted ghostly visitors. A gentleman in Victorian dress accompanied by a dog has been seen by staff and guests alike, and the writing room reputedly plays host to a gentleman spirit from James I era.
Stay at The Feathers Hotel, Ludlow from £170 per person, which includes dinner bed & breakfast, a full introduction to "Haunting Breaks" paranormal investigations, a group vigil and séance with psychic, and full discussion and debrief before bed.
Book via travelguru.tv and receive two extra nights free, on a room only basis. Other Haunting Break venues are also offered at a 10% discount.
To view the full video, see more details and make a booking visit travelguru.tv.