Unveiled - George Harrison's gold plated Banjolele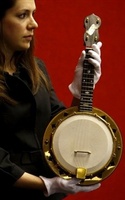 The late George Harrison will be honoured at Liverpool's Beatles Story in September with the arrival of a unique and rather controversial piece of memorabilia. The banjolele (which has the body of a banjo with the neck of a ukulele) was sold at auction in June 2008 and has kindly been donated to the Beatles Story by a collector who wished this historic item to be on show and give pleasure to Harrison fans.
However, this magnificent instrument is shrouded in mystery, as staff at the Beatles Story, who found themselves investigating it's murky past, were soon to find out.
According to Bonham's catalogue the banjolele was the famous gold-plated banjolele used by '30s music legend George Formby. When Formby's estate was auctioned it was bought be Formby's brother. Eventually it was bought and played by George Harrison, a huge George Formby fan. When Harrison met Formby's nephew he felt the significant banjolele belonged with the Formby family and sold it back to him. But how significant was it?
According to the George Formby Society all is not as it seems. They believe that some skullduggery was in play. That the banjolele had been deliberately passed off as a Formby banjolele, long before it came into the hands of George Harrison, and that in fact the banjolele had never been owned by George Formby at all!
What is clear is that this wonderful instrument was not only owned but treasured and regularly played by George Harrison, in the belief that it had been Formby's. Of course, if anyone has any further information, the Beatles Story would love to hear from them!
Formby was a favourite of both John Lennon and George Harrison, who admired his expertise on the ukulele. A tribute to the so called 'Emperor Of Lancashire' is contained at the end of the promo video for Free As A Bird..
George Formby was born George Booth Jr in Wigan, Lancashire in 1904. In the 1930s and early 1940s he became the No.2 box office star in Britain after Gracie Fields. He starred in more than twenty films and had numerous best-selling records. Famous songs of Formby include Leaning On A Lampost and When I'm Cleaning Windows.
George Harrison was such a fan of Formby that he became an honorary president of the George Formby Appreciation Society, attending a number of their annual conventions held at the Winter Gardens, Blackpool.
For more information, visit Beatlesstory.com.