Britain's most haunted location revealed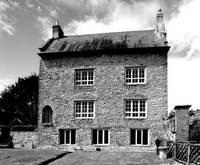 Fright Nights, the UKs leading ghost hunting specialist, have announced the results of the second 'Great British Ghost Hunt', an investigation to discover Britain's most haunted location. For 10 years Fright Nights have been organising ghost hunts across 170 locations in Britain and are the leading expert in carrying out investigations of this nature. Last year the Galleries of Justice in Nottingham was voted the most haunted venue in the UK with 31 reported paranormal incidents.
This year over 300 brave volunteers took part in the challenge and the results were surprising. Little known Llanthony Secunda Manor in Caldicot, Wales has been named Britain's most haunted location after an astounding victory over the ten other venues. The 12th century Medieval Manor House, formerly part of the Monastery, has been rife with paranormal activity since the owners made recent improvements. During the investigation 27 incidents of paranormal activity were reported including a growl being heard in the kitchen. There were also reports of the volunteer's faces changing appearance whilst others reported a small figure reaching out to touch them.
The Falstaffs Experience in Stratford-upon-Avon, said be one of the most haunted places in the UK, was voted 2nd with 26 reported incidents and Bolling Hall in Bradford, one of the town's most famously haunted buildings, came 3rd with 18 reported incidents. The Galleries of Justice came in at a respectable 5th place with 10 reported incidents.
At the same time Fright Nights raised over £8,000 for the Make-A-Wish Foundation, which grants wishes to children and young people fighting life-threatening illnesses.
Martin Jeffrey, Director of Fright Nights said "The results are extremely surprising. Last year the Galleries of Justice blew away the competition and it was interesting to see the Llanthony Secunda Manor and the Falstaff's Experience so far ahead of the next location. Llanthony Secunda is a genuine haunted house with an amazing history and is renowned for its hauntings. The standard set by Llanthony Secunda Manor is extremely high and it will be interesting to see if any location can come close in the 2009 Great British Ghost Hunt."
Fright Nights are now planning the 3rd 'Great British Ghost Hunt' which will take place on Saturday 10 October 2009. The team are currently searching for locations that could challenge the Llanthony Secunda Manor as Britain's most haunted location.
For more information on the 2009 Great British Ghost Hunt, log on to Frightnights.co.uk.