Vilnius speaks the language of music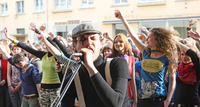 On the first Saturday of May thousands of people in Vilnius and other Lithuanian cities go out into the streets to play music. The Street Musician Day is the event uniting everybody who speaks the world's most universal language - the language of music.

Street Musician Day is one of Vilnius – European Capital of Culture 2009 projects. 2009 also marks another important date in Lithuania's history - the millennial anniversary (1000 years) of the first mention of Lithuania's name in a historical document – Annales Quedlingburgenses.

The core idea of Street Musician Day has been developed by the famous Lithuanian musician and actor Andrius Mamontovas who invited musicians to play the music in Vilnius streets. The third year in a row professional and amateur musicians flood the streets, yards, parks and squares of Vilnius.

Armed with a variety of musical instruments, they play rock, classics, jazz, avant-garde and folklore and beat African rhythms. On this day all Lithuanian cities and towns engage in the festival of free creation and communication between musicians and the public. All can participate and anyone able to produce any sound or even noise. All music genres are good. Both young and old can play. Neither social status nor position in society matter.

In 2008, the Street Musician Day pealed out all across Lithuania with more than 3,000 musicians playing in the Capital and 31 other towns and townships. In 2009, Lithuanians from all over the world playing jazz, rock, classics, rhythms and folk music on the streets will participate in the Street Musician Day.

For more detailed information see gatvesmuzika.lt/en.