Beautiful Barbados dazzles at Chelsea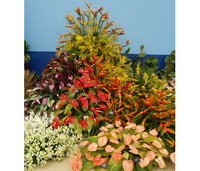 Having won 13 Gold, seven Silver-Gilt and one Silver in a highly commendable 21 consecutive years at the Chelsea Flower Show, the Barbados Horticultural Society is pulling out all the stops to create another outstanding display of excellence for 2009.
Aptly themed, 'Beautiful Barbados' the exhibit reflects the warmth and vibrant tropical beauty of this iconic destination. Giant anthuriums in green and white make their debut for Barbados at Chelsea this year and, together with the popular heliconias and multi-coloured ginger lilies, create a stunning display of floral beauty in the Great Pavilion, the spectacular centre-piece of the RHS Chelsea Flower Show.
Bamboo also features prominently around the 8m x 8m Barbados exhibit; contained as slender bunches within five huge ceramic vases. The new giant-sized anthuriums are arranged between Ginger Lilies, Heliconias, Tuber Roses and Orchids.
Mrs Jean Robinson, President of the Barbados Horticultural Society said, "With the unique display we have created for Chelsea this year, and with the inclusion of something new and rare with the giant anthuriums, we are aiming for Gold. The finished exhibit reflects everything that is beautiful about the island from its warmth and colour to its people, thus the theme, "Beautiful Barbados".
The organisation and planning of the Barbados Horticultural Society's exhibit starts many months in advance of the show, with the help of a small but dedicated team and a huge variety of flowers from the island's private gardens and nurseries. Preparations start in earnest in February to ensure that the hundreds of flowers are at their prime for RHS Chelsea.
The final exhibit and the art of arranging the enormous variety of flowers and foliage is accomplished in just four days. "The challenge lies in making sure that every plant is in excellent form, as even a minor scratch will bring the mark down", says Jean Robinson.
Barbados is famous for its natural beauty and stunning gardens, many of which are open to the public all year round. The most notable include Andromeda Botanic Gardens, Flower Forest Botanical Gardens and Orchid World. All are havens of dazzling exotic plants and blooms, as well as rare varieties of flowers.
Between January and February, when gardens are ablaze with colour, visitors have a rare opportunity to visit some of the island's private gardens, as part of the Barbados Horticultural Society's Open Gardens Programme. Participating gardens are open each Sunday between 1400 and 1800 during these two months.
The Barbados VIP Card (barbadosvipcard.com), offers a Buy One Get One Free on participating attractions and tours in Barbados until 14 December, including tours of the Andromeda Botanic Gardens and Orchid World.