A festive summer in Lithuania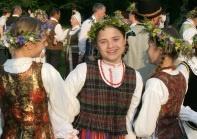 Lithuanians and guests from abroad will enjoy the exceptionally festive summer of 2009 in Lithuania. The country entered the European history when it was first mentioned in a medieval German manuscript, the Quedlinburg Chronicle, so the present year of 2009 is a festive year of the Millennium of Lithuania. Also, Vilnius, the capital of Lithuania is this year's European Capital of Culture.

A number of festive events are scheduled for the whole present year, and the summer season will be marked by the greatest Lithuania's Millennium festivities.

On the 5th of October of 2008 a team of brave Lithuanian yachtsmen started "The Millennium Odyssey", sailing from Lithuania around the world with a motto "One name – Lithuania." The mission of "The Millennium Odyssey" is to become a worldwide ambassador of Lithuania's millennium celebration, better present Lithuania around the world and bring together Lithuanian communities around the world to celebrate this momentous occasion on all five continents. For nine months, a crew of 120 Lithuanian yachtsmen, sailing the yacht LTU 1000 "Ambersail", have been visiting 26 Lithuanian communities situated in 20 countries around the world.

On the 5th of July the yacht "Ambersail" LTU 1000 will return to Lithuania, and at 9 PM (EEST/GMT +3) the international Lithuanian community, scattered around the world, shall be together in thoughts and words. They shall sing together the Lithuanian anthem. This will be the way to announce proudly to the whole world that the name of Lithuania is one thousand years old. Recordings of the Lithuanian anthem performed by Lithuanian communities will be collected from all around the home country and the communities abroad into one video that will be aired on the 6th of July, the the day of the Coronation of the Lithuanian King Mindaugas - a national holiday.

For more information on "The Millennium Odyssey" visit 1000odiseja.lt.

Also, from the 1st to 6th of July the Millennium Song Celebration of Lithuania "Songs of the Centuries" will gather thousands of Lithuanians from all over the world to the capital of the country.

The Song Festivals, also taking place in the neighbouring Latvia and Estonia, are held every four years and embrace more than 30,000 performers, including over 400 choirs. In 2003, the traditions and symbolism of the song festivals of the Baltic States (Estonia, Latvia, and Lithuania) were attributed the status of masterpiece to be inscribed on the UNESCO Non-material Heritage List.

The detailed program of the Millennium Song Celebration is available at dainusvente.lt.

For more information on the Millennium of Lithuania and the Millennium anniversary events visit lietuvai1000.lt.