A magical Christmas journey by rail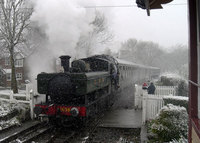 This Christmas the Kent & East Sussex Railway will once again be offering families the chance to enjoy their popular 'Santa Specials' which combine a ride on a nostalgic steam train and a meeting with Santa Claus.

The Kent & East Sussex Railway is renowned for its innovative events programme and the Santa Specials, which have now been running for 35 years, promise families a magical day out, full of festive fun.

The journey begins at Tenterden Town Station, where families are greeted by a traditional pipe organ before boarding the decorated steam train for their one hour return journey to Wittersham Road.

On board families will meet Santa's pixie helpers, who will be serving delicious refreshments and visitors can choose from a mince pie and sherry, port or an orange juice for adults and a soft drink and chocolate for children. Next is the highlight of the trip as each family has an exciting visit from Santa Claus himself, who will give each child a lovely, quality present (included in the ticket price).

Back at Tenterden station families can enjoy a second train ride on a 5 gauge miniature railway to visit the Snow Queen where they can have a professional photograph taken, of which they will receive a free colour copy to take home.

The day continues as families can enjoy free rides on the Victorian carousel and for a small additional cost you can play the 1950's penny slot machines and enjoy a delicious BBQ.

To make your trip extra special why not hire one of the vintage saloons for a private trip, ideal for groups of friends, families and work colleagues. The private saloons include all the above features but each child receives a named present from Father Christmas.

Dates and prices of the Santa Specials are:

Saturday 12 and Sunday 13, Saturday 19 and Sunday 20, Tuesday 22 and Wednesday 23 December - Standard class: £16 First Class: £19.50

Thursday 24 December - Standard Class: £17 First Class: £20.50

Special dates and prices of the Santa Specials are:

Earlybird Special Saturday 5 and Sunday 6 December - Standard Class: £11.50 First Class: £14.50

Pre-School Day Friday 11 December - £10.50

The Railway organises many special events which take place throughout the year, the website has all event details as well as train times and prices.

See kesr.org.uk for more information.

Tenterden Town station has a licensed restaurant and a spacious car park with allocated spaces for the disabled; there are also toilets for the disabled and a special carriage for the disabled and elderly with wide aisles and ramped access.