Get out and active in Hadrian's Wall Country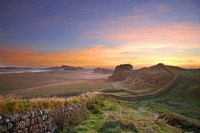 Families are being urged to enjoy the great outdoors and stunning autumnal scenery of Hadrian's Wall Country this October half term. Getting fit and active couldn't be more enjoyable with dramatic walks and cycle rides and a new Go Ape aerial assault course, set against some of England's most beautiful scenery.

An improved website, with an array of selected featured properties and the Hadrian's Wall Country AD122 Bus mean it's also very easy to find the right accommodation and get around the area once you arrive.

Get walking

Take in some culture and enjoy some of the most impressive sections of Hadrian's Wall with the Once Brewed, Vindolanda and Housesteads Walk.

A mixture of rugged crags and steeper slopes as well as gentler farm tracks, the walk includes the two major Roman forts at Housesteads and Vindolanda, as well as passing many other important historical sites.

The walk also takes in the 'Robin Hood Tree' at Sycamore Gap, made famous after its use as a location in the film Robin Hood Prince of Thieves.

For more details of this, and a host of other circular walks, including downloadable route maps, visit nationaltrail.co.uk/hadrianswall.

Get cycling

Visitors who prefer to travel on two wheels rather than two legs can also take advantage of some impressive cycle routes.

The 174-mile Hadrian's Cycleway goes through the entire World Heritage Site and combines existing shorter cycle routes, quiet roads and off-road tracks. Clearly signposted, Hadrian's Cycleway takes cyclists near many major Roman sites, and other attractions are just a short distance from the main route.

If you only have time for a shorter trip you could try the Aydon Castle and Corbridge ride, which is a moderate 14.5 mile ride along quiet country lanes through rolling Hadrian's Wall countryside. It takes in the twin cultural centres of Aydon Castle and Corbridge Roman town with plenty of opportunities for rest and snack stops on the way.

To download a route map for this and other easy 'do in a day' routes, visit hadrians-wall.org.

Get up in the air

Hadrian's Wall Country also now has its very own high wire forest adventure thanks to the ever popular Go Ape, and their course in the grounds of historic Matfen Hall in Northumberland, which opened this year.

Go Ape involves dramatic obstacle courses high up in the forest canopy, including ladders, walkways, bridges, tunnels and zip wires to bring visitors back down to earth the fun way.

For more information on the course including opening times and availability, see goape.co.uk.

Get there by bus

The Hadrian's Wall Country AD122 Bus service provides an easy and green way to get around the area.

Last autumn The Guardian described the service as 'highly recommended'. It provides connections to train stations in Newcastle and Carlisle and visits many of the key attractions along the Wall such as Housesteads, Birdoswald Roman Fort and Vindolanda.

Hadrian's Wall Heritage Ltd has designed a series of itineraries for Great Days Out in Hadrian's Wall Country – all of which can be enjoyed using the AD122 buses. There are eight itineraries including 'The Maximus Trip', which connects Roman-mad families to some of the most impressive Roman forts.

For those who would prefer to spend a more leisurely day pottering around a pretty market town there is the 'Tea and shopping trip', which takes visitors through Hadrian's Wall Country via Hexham to enjoy a spot of shopping, lunch and tea.

Further information, including a timetable and the itineraries, can be found on the Hadrian's Wall website at hadrians-wall.org.

Get the best accommodation

It is now possible to book accommodation in Hadrian's Wall Country and check availability online at hadrians-wall.org. Visitors can filter their search using a number of different options including accommodation type, awards, and suitability for families, disabled people, walkers, cyclists and those with pets. The site also includes details about any special offers being provided by accommodation providers.

Hadrian's Wall, Britain's longest monument, was built in AD122 by the Roman army on the orders of the emperor Hadrian. It is 73 miles (or 80 Roman miles) long and was once 15 feet high and up to 10 feet thick.

The Frontiers of the Roman Empire World Heritage Site spans the north of England from Ravenglass on the Cumbrian coast to South Shields on the North East.