Get to Alsace faster on the TGV East!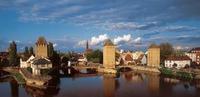 In preparation for the June opening of the TGV East high speed train link, the Alsace Tourist Board has launched a new and improved version of its English language website (Tourism-alsace.com) with a host of features that provide virtual visitors with everything they need to plan the perfect holiday.
Alsace tourist board officials are confident the new rail link, which cuts rail travel time from Paris to the region by nearly 50%, will bring increased UK visitor numbers to the region. Tourism-alsace.com is now very user friendly and, in conjunction with a wealth of background information and itinerary ideas, has regularly updated special offers and a comprehensive events listing.
One of the most impressive features is the new accommodation finding service which is provided in partnership with Booking.com. This allows visitors to choose from a variety of accommodation ranging from Spa hotels and chateaux, to gîtes and traditional working farms.
High speed and efficiency is not only confined to the website, however. On June 10th the first record breaking TGV East train will depart Paris and arrive in Strasbourg just two hours 20 minutes later before going on to Colmar and Mulhouse. The eco friendly train will make Alsace an attractive, more accessible 'new' destination for UK holidaymakers to France.