Orangutan sight restored in first ever Ape cataract op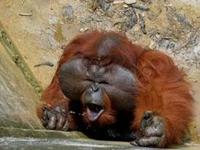 Volunteers on Real Gap's Orangutan Experience volunteer programme in Malaysia had an unexpected treat last week when they witnessed the world's first ever cataract operation performed on an orangutan.
19yr old Aman, a dominant male, is the first orangutan in the world to undergo bilateral cataract surgery. He had been virtually blind for 10 years after developing cataracts in both eyes.
After the three hour long surgery last week (undertaken by the local coalition conservation initiative, the Great Orangutan Project), Aman's operation was pronounced a success and has brought his rehabilitation into the wild a step closer. He will now be able to see his children for the first time. Specialist animal ophthalmologist Dr Izak Venter from South Africa declared "Aman has clearly regained the use of his sight and will be suitable for return to his usual activities." Aman is now enjoying post- operative animal care at the Matang Wildlife Centre in Sarawak, Malaysia.
"Volunteers have made all the improvements at this wildlife centre other orangutan sites possible. It is their donations; hard work and dedication that drive the project forward and give orangutans in this part of the world a great chance of survival" commented Guillaume Feldman Project Director of the Great Orangutan Project. "This is a leading example of how orangutan custodians, from charities to volunteer companies to individuals, can share a common vision and put their conservation debates to one side and get on and save the species from the brink of extinction. "
The charity 'Orangutan Appeal UK' funded all ancillary costs of the operation, and Real Gap sends volunteers to Malaysia on the Orangutan Volunteer Experience. Volunteers on this programme have the unique opportunity to spend some time at the Matang Orangutan Wildlife Conservation Centre, as well as working closely with Orangutans in a Malaysian Zoo, and monitoring great apes in the wild in the Borneo jungle. 4 weeks costs £1449.
Real Gap Experience (and sister programmes Gap year for Grown Ups and Real Sport Experience) is the leading UK independent gap year provider. The company has enjoyed phenomenal growth from its start in 2003 with just two staff and a telephone, and now employs 40 people in its Tunbridge Wells HQ; big enough to operate efficiently but small enough to know its customers by name. Offering programmes in over 40 countries, the company has more choice of projects and destinations than any other gap year provider, and the team's specialist knowledge is second to none when it comes to gap year options.
For more information visit Realgap.co.uk.