VisitScotland design a unique tartan for Shrek!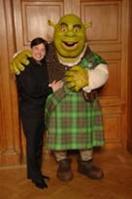 VisitScotland honours Shrek with a kilt made in a specially designed tartan by Lochcarron of Scotland. Mike Myers who bestowed a Scottish accent on the lovable ogre when he first came to life in Shrek in 2001 was present at the unveiling.
Visitors from around the world come to Scotland to experience its unique heritage and culture and traditional symbols such as tartan and kilts are still integral to the visitor experience. Any individual or family can commission their own tartan and over 50 million people around the world can claim Scottish ancestry.
For holiday information on Scotland log on to Visitscotland.com.