The WAG's guide to travel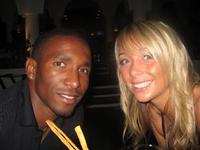 Footballers and their WAGS are used to the jet-set lifestyle but even well-seasoned travellers need to do a bit of preparation before they travel. Charlotte Meares, fiancée of Jermain Defoe has teamed up with the Foreign & Commonwealth Office to launch the WAG's guide to travel.
The guide is vital for any self-respecting wannabe WAG planning to travel stylishly, but sensibly and without hassle this summer.
Charlotte Meares says: "It is amazing how many things can go wrong when you are travelling. So I wanted to share my top tips for a hassle-free trip with you:"
Charlotte's Top Travel Tips:
Know Before You Go!
- It might sound trivial but you never know when you might break a nail or your extensions turn green in the pool. To stay looking your best even if you are not taking a personal stylist with you, get a number of good local beauticians or check if the hotel has one before you go!
- Other useful numbers to take with you are that of the local consul or embassy – it could be invaluable if you lose a passport, or if a bit of wild partying gets you into trouble with the local law! Also take the number and details of your insurance company – it will save you loads of time and hassle if your luggage full of designer gear goes missing at the airport!
Insure Those Choos:
- An absolute must is travel insurance - one tumble off a bar table in your Jimmy Choos without insurance could cost you £20,000 worth of shopping money on your hospital bill! And whether you've got five Louis Vuitton cases full of designer gear or a beaten up bag full of Primark, you'll want to know that if anything gets lost or stolen you will be covered.
Go Native:
- If you research your destination in a guide book or on the web before you go, then you arrive knowing all the best places and where you should (and shouldn't) be seen!
- Another WAG technique for looking cool and 'in the know' is to arrive at your destination wearing something the locals would but with a unique twist - think Henna'd hands in India.
- Check out Fco.gov.uk for travel advice and more information about your destination and you'll also be able to find out about local laws and customs – you don't want to get arrested in the Caribbean for wearing a camouflage bikini (camouflage clothing is illegal!) or get arrested in Florence for drinking too close to a church.
Come Fly With Me:
- Luggage restrictions are different all the time now and change from airport to airport and carrier to carrier – research what the requirements are and plan carefully what you are taking on the plane and what is going in the hold. (Frank Lampard's fiancée Elen Rives delayed a flight because of a dispute over the amount of hand luggage she had!)
- Remember your 'must-have' cosmetics for the plane (eight hour cream, lip balm, serum etc) will have to go in a clear plastic bag through security now.
Get Your Jabs - and not just the botox!
- Check out medical requirements for your destination, as you may need vaccinations to protect you from prevalent diseases.
Copy That:
- I take all my documents in a stylish travel wallet so everything important is all in one place, but other tips include photocopying your passport, your credit card and insurance details in case you lose them.
Safety – Take No Chances:
- When you're out partying and having fun, try and follow some of my safety tips:
- If a stranger offers you a drink, make sure you're at the bar with him when he buys the drink. To be honest it's better to buy your own or have a whip round with your mates.
- If you leave a drink on a table you don't know if it's been tampered with, buy a new one. For the sake of a couple of quid it's better to be safe then sorry
- It's fun having a few drinks but watch out for any of your mates that are too drunk. Lots of girls end up in hospital after falling over and breaking something. The consequences could be even worse with guys taking advantage of women in that state.
- Try and stay in pairs or 3's at the end of the night, even if your mate meets a hunk and yours looks like a skunk, stay together and say you've got a headache.
More Tips
- When I went away with the girls I was so excited, I tried to cram everything in the first day, make sure you don't ruin the rest of your holiday by staying out in the sun too much or drinking excessively in the first day or two.
- Stay hydrated by drinking lots and lots of water during the day.