New MP3 audio walking tours for Bristol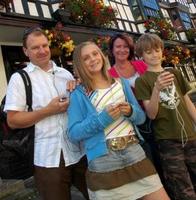 Following the highly successful launch of 'The Bristol Quayside Adventure' MP3 audio tour released in September 2006, and the Brunel Mile walk launched early in 2007, Destination Bristol, has now launched a further three MP3 audio tours targeting residents and visitors to Bristol.
The Bristol Heritage Trail, The Slave Trade Trail and Bristol Churches Trail have this week gone live on the city's official tourism website, VisitBristol.co.uk.
John Hallett, Managing Director of Destination Bristol said "Downloadable audio tours are becoming such an important way for people to access travel information. Destination Bristol was among one of the first destinations in the country to start in this way when we released The Bristol Quayside Adventure last September. Based on Robert Louis Stevenson's novel Treasure Island, this family trail proved extremely popular with downloads now running into the thousands. We are building on this enthusiasm by developing a wider series of podcasts, each with a separate theme designed to attract new audiences and interests.''
'While this form of tourist trail has great potential and certainly meets the needs of the technology savvy traveller, we have also recognised the value of podcasts as an educational resource and believe that the importance of this medium will only grow in years to come. This has meant we have had to think very carefully about the structure of the podcasts and the language that is used.'
The new tours feature musical elements and locations which are not listed in guide books, and are narrated by Simon Cook, local actor, former Lord Mayor of Bristol and Creative Director of thepodfactory, the company responsible for producing the audio tours.
Commenting on the new MP3 tours, Simon Cook said "All three are illustrated walks around the city centre, highlighting different aspects of the city's history. The Heritage Trail is based upon an established trail originally set up by the Junior Chamber of Commerce, while the Churches trail provides a route around some of our most notable medieval and historic church buildings. Special to this year, which is the 200th anniversary of the Abolition of Slavery Act, we have also produced the Slavery trail, guiding visitors around monuments and buildings that bring that horrifying period in the city's past to life, which I think both visitors and residents of the city will be moved by."
To listen or download one of these tours, log on to Visitbristol.co.uk.