New Audi A4 Allroad Quattro heads for the hills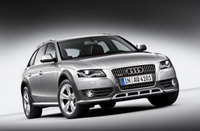 The Audi A4 Avant is about to leave the executive car park to head for the hills as the new A4 allroad quattro, a more agile and ruggedly styled interpretation of the acclaimed compact executive which makes its world public debut at the 2009 Palexpo Motor Show in Geneva on March 5th. The harder edged A4 opens for UK order this week priced from £29,285 OTR and will reach its first customers in May.

Covering similar ground to the popular A6 allroad quattro, the new rough terrain A4 adopts its tougher stance through a 20mm-wider track front and rear, a 37mm increase in ride height to 180mm and allroad-specific body styling, including a unique design for the grille and bumpers, wheel-arch extensions and additional under-body protection.

Three state-of-the-art directly injected and EU5 emission limit-compliant engines will initially provide the backbone for the new A4 allroad quattro. The petrol range is represented by the latest 2.0-litre TFSI with Audi valvelift technology, delivering 211PS and a torque peak of 350Nm, and from the diesel camp come the 2.0-litre TDI with 170PS and 350Nm and the 3.0-litre V6 TDI with 240PS and 500Nm, both featuring the latest common rail piezo injection technology. Acceleration to 62mph from rest can be completed in 6.9 seconds in the 2.0 TFSI, 8.9 seconds in the 2.0 TDI and 6.4 seconds in the 3.0 TDI. Best case fuel economy ranges from 34.8mpg in the 2.0 TFSI, through 39.8mpg in the 3.0 TDI to a maximum of 44.1mpg in the 2.0 TDI.

The latest six-speed manual gearbox will initially be reserved for the 2.0 TDI, while 2.0 TFSI and 3.0 TDI versions will come equipped with the new S tronic twin clutch automatic transmission which has been newly reconfigured to bring its ultra-rapid 0.2-second gear shifts to Audi models with longitudinal 'north-south' engine installations. Further engine and transmission combinations will be available later in 2009.

Offroad Detection technology
The advanced engines and transmissions are complemented by the latest incarnation of the quattro four-wheel-drive system, which supplies 60 per cent of torque to the back wheels in normal driving conditions, and can divert up to 85 per cent rearwards or 65 per cent to the front in order to retain traction on rougher surfaces if necessary. The consistency of those surfaces is also monitored by special Offroad Detection technology (ORD) which has been incorporated within an allroad-specific version of the Electronic Stability Programme (ESP), and adjusts its parameters accordingly. Where conditions demand it, the off-road ESP permits more wheel spin than normal so that torque can be apportioned as quickly and efficiently as possible despite the constant fluctuations in grip between the wheels on loose surfaces.

For optimum response and control back on the tarmac, A4 allroad quattro customers will also be able to specify the unique-in-class Audi drive select option at extra cost. Available in three specific 'packages', Audi drive select enables the driver to fine-tune the dynamic characteristics of the car, including suspension settings, steering behaviour, throttle response and transmission shift points, via dashboard-mounted controls to suit personal preferences or prevailing road conditions.

Driver assistance options will also include Audi side assist, which uses sensors to warn of vehicles approaching in mirror blind spots, and Audi lane assist, which guards against unintentional lane changes by activating steering wheel vibrations to alert the driver.

One comprehensive specification level
In common with its namesake within the A6 range, the new A4 allroad quattro will be available in the UK with just one comprehensive specification level, and this takes the A4 SE as its basis. Features of the SE include three-zone electronic climate control, a 10-speaker Audi Concert CD system, automatic headlight and wiper operation and a full-colour Driver's Information System (DIS).

To this the A4 allroad quattro adds striking 18-inch 10-spoke alloy wheels with allroad-specific tyres, special Tundra cloth upholstery and a storage pack including additional nets and compartments. Additional standard features can also be found in the 1,430-litre load bay, including a reversible load bay mat with one rubberized side for soiled footwear etc plus a flip over bumper protector, and a load area rail system and fixing kit for securing bulky loads using a telescopic bar and securing belt.