Rocky Mountaineer Vacations invests in sustainable tourism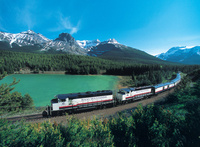 Rocky Mountaineer Vacations (RMV) owes much of its success to the unspoiled scenery, fresh air and abundant wildlife of Canada's West. As a result, the company continues to develop innovative sustainable tourism policies and programs that support all three pillars of Sustainability: Environmental Stewardship, Economic Sustainability and Corporate Social Responsibility.
Established by the organisation in 2003, the Caretakers program is designed to promote the development and implementation of sustainable operating policies and practices throughout RMV.
Waste Reduction
Rocky Mountaineer Vacations has set a target to reduce its waste by 50% by the end of the 2009 operating season. The plan involves increasing the level of recycling on all Rocky Mountaineer routes and the Whistler Mountaineer train by implementing new policies and partnering with recycling operators in the various communities through which it travels. In 2008, RMV recycled over 82% of its meal trays and reduced rubbish diverted to landfill by 10%.
Cutting edge technology has also been installed on all locomotives, significantly reducing fuel consumption, exhaust emissions and noise pollutions. The company also dreams of becoming the first passenger rail service in North America to operate a hybrid locomotive.
Salmon – A Dying Breed
The Rocky Mountaineer and Whistler Mountaineer routes follow some of the most important salmon habitats in North America. Facing the pressures of climatic change, warm water and unpredictable flows, some of these once abundant populations of salmon have declined to the point that they are swimming a fine line between survival and extinction.
In a bid to help sustain and protect the natural environment in which they operate, RMV has entered into a long-term eight year financial partnership with the Pacific Salmon Foundation, a not-for-profit organisation dedicated to rebuilding sustainable and naturally diverse Pacific salmon stocks. The eight-year commitment is the equivalent of two salmon lifecycles.
Local Community Initiatives
In addition to these environmental initiatives, RMV is dedicated to building strong community partnerships and enhancing economic sustainability in the local communities in which the Rocky Mountaineer and Whistler Mountaineer trains operate. The company uses local businesses and suppliers whenever possible and RMV guests contribute to local economies through accommodation, dining, shopping and by visiting local attractions. For example, since opening up its route to Quesnel, the region has seen an economic benefit of $1.5 million.
Armstrong Group donates more than CAN$250,000 annually to support local charity fundraisers and community initiatives. One such venture is fostering the growth of Olympic champions. RMV has offered to sponsor a local British Columbia (BC) athlete by investing £7,500 over a three-year period, which goes towards training and competition costs. The athlete is Christopher Campbell, from a small settlement in the Cariboo Chilcotin region in BC.
Commenting on the importance of their sustainable strategy, Ian Robertson, RMV's Executive Director, Public Affairs & Corporate Communications commented: "Sustainable development has always been a key priority for RMV and a recent customer survey shows that our guests agree. Findings were that 68% of our guests rate Rocky Mountaineer's sustainable practices as 'extremely important'."
Testament to its social, economic and environmental dedication, Rocky Mountaineer Vacations recently won Tourism British Columbia's 'Foresight and Sustainability Award' for leadership in sustainable tourism policies and programs.
RMV is a member of the BC Sustainable Tourism Collective which was founded on the vision that travel within BC can foster appreciation and stewardship for the natural environment, regions and communities.
For more information on Rocky Mountaineer Vacations' sustainable tourism and
development activities, log on to Rockymountaineer.com.