Shakespeare Country launches online game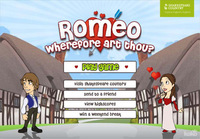 Shakespeare Country has launched a new viral online game entitled "Romeo - Wherefore Art Thou?". The platform style game, which can be found at shakespearegame.com sees the player guide Romeo through a Shakespeare Country landscape to reach Juliet and rescue her from the balcony.
The game, designed by Koko Digital, aims to encourage players, their friends and family to visit Shakespeare Country and interact with elements of the brand. The game also aims to raise brand awareness as well as being used to capture data for Shakespeare Country.
Romeo and Juliet were chosen as being two of Shakespeare's most iconic creations and ones that the vast majority of players associate with. The five Shakespeare Houses have been integrated into the game so showcasing some of the attractions people would see for real when visiting the area. The game has been based loosely on the Mario style platform concept which is extremely popular and one that the target audience is familiar with.
Players are encouraged to enter their score at the end of each game allowing Shakespeare Country to capture the information. To encourage players to leave their e-mail address, a competition will run each month for players to win a short break to Shakespeare Country along with tickets to Warwick Castle, the Royal Shakespeare Company and the Shakespeare Houses. The competition will feature a different hotel prize each month with the competition running for 12 months.
Players are also able to send the game onto friends by entering their e-mail address. A personalised email is then sent from the sender to the receiver with links to the game and a brief description. During the game, players are encouraged to visit the Shakespeare Country website through clickable logos and also direct references at the end of each level.
Phil Hackett, Chief Executive of Shakespeare Country stated "We are delighted to launch our new online game for Shakespeare Country. The concept allows players to interact with the brand and visit some of our most infamous attractions. The game is informative and fun to play showcasing our brand in a vibrant and engaging way".
For theatre and attraction tickets, accommodation, brochures, special offers and more information visit the official website - shakespeare-country.co.uk.