Second What Car? Green Award for Audi A8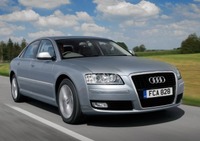 The success of the ongoing Audi campaign to optimise economy and emissions has been underlined again this week by a What Car? Green Award for the A8 luxury saloon for the second year in succession.

The A8 2.8 FSI, priced from £49,975 OTR, triumphed a second time in the face of even stiffer competition from established premium sector favourites and newly launched challengers vaunting diesel and petrol-electric hybrid power. It continues to undercut the vast majority of these alternatives on CO2, emits the lowest proportion of harmful oxides of nitrogen in the class and is also free of the particulates generated by diesel combustion, making it the most uncompromising choice for efficiency-aware drivers.

The 34mpg capability offered by the most efficient A8 and the impressively low 199g/km CO2 emissions that are inextricably linked are a direct result of three key factors. The advanced FSI direct injection technology feeding the 210PS V6 delivers its fuel with exceptional precision and negligible wastage, the unique-in-class multitronic continuously variable automatic transmission channels the power without the need for a fuel-sapping torque converter and the all-aluminium body construction minimises overall weight to give the two components the best possible conditions in which to perform.

Commenting on whatcar.com on its decision to favour the A8 for a second successive year, the What Car? test team writes: "Step forward, for the second year in a row, the aluminium-bodied Audi A8, which emits less than 200g/km of CO2 and can manage an impressive 34.0mpg on average. These are produced by a smooth V6 petrol engine, too, so if you're swinging by the school to pickup the children, you don't have to worry about any of those nasty particulates blowing into the playground. It also means that you don't have to pay the 3% company car tax penalty levied on diesel engines, and NOx emissions are also very low."


Audi UK has enjoyed an exceptionally rapid rise to prominence in the premium sector. In 2000 just over 43,000 Audi models found homes in the UK, and from that point until 2008 the brand has broken annual sales records year-on-year, successfully passing the milestone 100,000 sales mark in 2007. Despite the market turmoil of 2008, Audi ended the year with a record 4.7% market share from 100,845 sales. The brand continues to maintain a steady trajectory by extending its reach into important new segments with strong offerings such as the A3 Cabriolet, A5 Cabriolet, Q5, RS 6 and R8, and by bolstering its appeal to its existing customer base with core models like the all-new A4 and A4 Avant.