Audi cuts CO2 yet again with new A3 1.6 TDI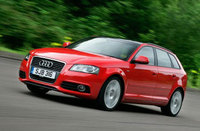 Success will smell even sweeter in the Audi A3 from this month as the consistent class best seller slashes emissions even further with the help of an all new 1.6-litre common rail TDI engine combining an outstandingly low CO2 output of 109g/km with the potential to cover close to 69mpg. Aided by the latest auxiliary fuel conservation technology, including an automatic start-stop function, the new unit effects an eight per cent economy improvement over the engine powering the A3 1.9 TDIe, which it replaces. It is available in three-door, five-door Sportback and A3 Cabriolet models priced from £17,485 OTR.

The three-door version's 68.9mpg combined economy figure demands no sacrifices in power or performance – with the same 105PS and 250Nm peak power and torque outputs as the larger displacement 1.9-litre TDI unit, the new arrival powers the A3 1.6 TDI with five-speed manual transmission to 62mph in 11.4 seconds and on to a top speed of 121mph. This uncompromising breadth of ability is made possible with the help of automatic start-stop and energy recuperation systems, both of which made their debuts recently in the A3 1.4 TFSI.

The start-stop system cuts engine power at idle when the clutch pedal is released and the gear lever is in its neutral position, and then restarts in just two-tenths of a second - more rapidly than any other comparable system – when the clutch is depressed. With the system's help, economy is boosted and CO2 is reduced by approximately 5g/km, but if required it can be deactivated at the touch of a button.

Braking energy 'recycled'
Recuperation technology provides further fuel and CO2 savings by recycling a proportion of the wasted kinetic energy which is generated under normal braking and normally dissipated as heat, and storing this temporarily in the vehicle battery to reduce the engine load when the car subsequently accelerates again. With its help, fuel usage is reduced by as much as three per cent in the A3.

These virtually imperceptible economy-maximising measures in no way detract from the responsiveness and agility which has always characterised the A3 range. For keen drivers this can be maximised by specifying the A3 1.6 TDI in Sport form with sports suspension lowered by 15mm over 17-inch five-spoke Star design alloy wheels, or as an S line which rides 10mm lower still on 18-inch seven twin-spoke wheels. The 1.6 TDI is also available in more comfort oriented SE and Standard trim levels, all four options featuring alloy wheels and comforts such as air conditioning or climate control, a single CD audio system, electric windows and mirrors and split/folding rear seats.

The frugal new engine and accompanying efficiency measures bear testament to the concerted efforts being made to honour Board of Management Chairman Rupert Stadler's pledge to reduce average Audi fleet CO2 output by at least 20 per cent by 2012.