Suzuki wins J D Power Sales Satisfaction in India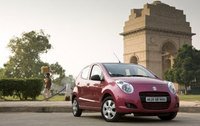 Maruti Suzuki in India is pleased to announce their success in the latest J.D Power Asia Pacific Sales Satisfaction Survey; the company moved up six places over 2008 with a score of 800 points; way above the industry average index score.
The survey was carried out across 5,422 new car buyers who purchased their vehicle between September 2008 and April 2009; Suzuki ranked first, ahead of Honda, Toyota and Hyundai. Questions asked in the survey included customer experience at the dealership; delivery process; delivery timing and the salesperson.
Overall car sales satisfaction in India has increased by 26 points from 2008 to an average of 793 out of a possible 1,000 points and Maruti Suzuki easily exceeded that.
Research by J.D Power Asia Pacific has shown that the majority of cash purchases are made for vehicles in the entry compact segment to first time vehicle owners and this is where the latest Alto – known as the A-STAR in India – has enjoyed much success since launch earlier this year.
Maruti Suzuki is of particular importance to Suzuki Motor Corporation as it produces around 800,000 units per annum from two highly efficient plants, representing more than 35 per cent of the total global production last year. Maruti Suzuki began producing cars 26 years ago and currently enjoys a 50 per cent market share with more than 7.5 million currently on the roads including almost 4 million Altos.
Maruti Suzuki builds an average of three cars every minute, employs 7,100 people and has a network of 600 dealers in 393 towns and cities as well as 2,628 authorised repairers.
The Alto is proving a very popular model in the UK and across Europe and has recently been voted as one of the top three green vehicles much further afield in Australia.
For more information on the Suzuki product range visit suzuki4.co.uk.