Suzuki plugs in to the 41st Tokyo Show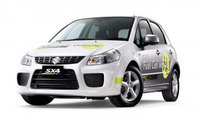 At the Tokyo Motor Show later this month, Suzuki will exhibit its latest concepts for the future including a Swift with Plug-in Hybrid system and an SX4 Fuel Cell Vehicle (FCV).
Swift Plug-in Hybrid is ideal for drivers who travel low mileages of around 20km every day and is designed to be driven primarily on electric power. It is fitted with a compact 660cc engine and equipped with a generator to charge the lithium-ion battery if capacity level drops. Further recharging when parked is by means of a domestic plug socket. The type of petrol engine used for the Hybrid is similar to that fitted to Suzuki's compact dimension and low tax 'Kei' cars in Japan.
Also on display as part of Suzuki's longer term future is the SX4 FCV (Fuel Cell Vehicle) which combines a General Motors produced high performance fuel cell with a Suzuki developed high pressure hydrogen tank and a light and compact capacitor. The capacitor helps to promote driving performance by recovering energy during braking and using it to reduce fuel cell loading under acceleration. The FCV is currently under test on public roads in Japan.
On two wheels; and after stunning the motorcycle world with the Crosscage fuel cell bike in 2007, Suzuki have now applied this technology in a more accessible way by adapting it to its popular Burgmann scooter. The fuel cell is air cooled and is of light and compact design with a hydrogen tank capacity of 70MPa, the highest used on a bike so far.
Continuing the fuel cell theme; Suzuki has been producing electric wheelchairs for 35 years and will be showing the MIO – powered by a direct methanol fuel cell instead of a conventional lead – acid battery. The methanol solution is held in a cartridge bottle that can easily be replaced by the user when empty, removing any worries of running out of fuel on the road. Suzuki began joint trials of the MI0 with the Shizuoka prefecture government in November 2008 with a view to enhancing it ready for commercial sale.
The Tokyo motor show begins on 21st October and will run to 4th November.
To find out more about the Suzuki automobiles range, visit suzuki4.co.uk.