First time buyer makes home ownership a reality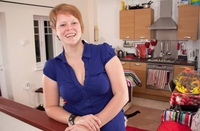 A first time buyer from Leicestershire who thought her plans to get a foot on the property ladder would have to be put on hold during the economic downturn has taken advantage of a payment deferral scheme from housebuilder David Wilson East Midlands in order to make her dream of home ownership a reality.
After graduating from Chester University in 2007, 26 year old Rebecca Vickerman returned to the family home in Leicester with the view of saving enough money to buy a home of her own.
But when the recession hit in the early part of 2008 and lendors started asking for a larger percentage deposit to secure a mortgage, Rebecca came to the conclusion that it would be quite a few years until she would be able to afford to buy a place of her own.
Rebecca, who works as a Personal Assistant at the University of Leicester, comments "I initially moved back in with my parents as a short term measure whilst I looked for a place of my own. But following the downturn in the economy, I soon realised that it would be better for me to stay living at home whilst I saved the big deposit that is asked by the majority of lendors these days."
It was on a chance visit to David Wilson's Kibworth Meadows development that Rebecca found out about the housebuilder's Head Start shared equity deal. With Head Start, purchasers are able to initially buy a property for just 85 per cent of the asking price, the remaining 15 per cent is funded through a deferred David Wilson loan which is payable either when the property sells or in 10 years time, whichever is sooner.
The aim of Head Start is to make the buying process more affordable and increasing numbers of first time buyers are turning to deals like these to help facilitate a move during the current economic climate.
Rebecca, who is studying a part time course in archaeology at the University of Leicester, adds "When the sales negotiator told me about Head Start it seemed like the perfect solution to my money worries and when I got home that day, I called around a number of different mortgage advisors to see if the reality of it was actually as good as it sounded in principle. It was, and I signed for my new house just a few weeks later."
Rebecca purchased a one- bedroom home in the style of an iLife. These innovative properties have been creatively designed to offer a dynamic and affordable living space ideal for first time buyers.
Rebecca adds "The iLife is a great style that suits me perfectly and I particularly like having a balcony which I love opening on sunny days. I'm really enjoying having my own space and I've even bought a little cat, Patch.
"Buying my new house has been a whirlwind adventure and without Head Start it wouldn't have been possible. As a first time buyer I had no idea what the buying process involved, but the staff at David Wilson have been incredibly helpful and I wouldn't hesitate in recommending them or Head Start to other first time buyers."
Philip Lacey, Sales Director at David Wilson comments "As a company, we're committed to helping first time buyers get a foot on the property ladder by offering innovative buying schemes as well as specially designed and affordable starter homes like the iLifes.
"Rebecca, like a lot of other first time buyers, has taken advantage of Head Start to make her dream of home ownership a reality. It's a great scheme which is proving a lifeline to those struggling to save a big enough deposit.
"I would like to congratulate Rebecca on getting her first foot on the property ladder and I wish her the very best of luck in her new home."
Located on Wistow Road, Kibworth Meadows offers Leicestershire homehunters a stunning selection of two-, three-, four- and five- bedroom homes from the extensive David Wilson portfolio. Ideal for those seeking a quality new home in a sought after semi-rural location, Kibworth Meadows is proving a popular choice with Leicestershire homehunters.
Prices at the development start from £159,995 for a two- bedroom house.
To find out more, visit during the opening hours of 11am-6pm, daily. Alternatively, log onto the website at dwh.co.uk.