Monarch's newest flights take to the skies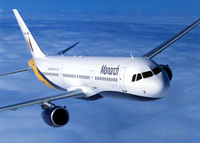 Award winning low fares airline Monarch (monarch.co.uk) is strengthening its network from Birmingham, London Gatwick, London Luton and Manchester airports with new routes to the Canary Islands of Fuerteventura and Gran Canaria taking to the skies this week.
From this week, up to two flights a week will operate to Gran Canaria from Birmingham, London Gatwick and Manchester and from 21 October flights to Fuerteventura will launch from Birmingham, London Gatwick, London Luton and Manchester*, bringing the total number of destinations served by the airline to 15.
Commenting on the launch of these new services, managing director of Monarch flights and holidays, Liz Savage said, "We are delighted to be expanding our network to the Canary Islands with the launch of scheduled flights to Gran Canaria and Fuerteventura. These will operate in addition to our existing routes to Tenerife and Lanzarote, and we have been overwhelmed with how well these new services have been received with 35,000 advanced bookings already taken.
"We are seeing huge demand for our mid-haul destinations – in September we carried 61% more customers to Lanzarote and 12% more customers to Tenerife compared to September 2008 and the addition of Gran Canaria and Fuerteventura means even more people can take advantage of our low fares and award-winning onboard service to these popular sunshine islands this winter.
"The onboard service offered on Monarch's scheduled flights, which includes extra legroom seating, a great range of tasty hot and cold food and selected inflight entertainment is over and above the levels provided by most low fare airlines and is perfectly suited for longer flight sectors such as the Canary Islands."
Monarch operates scheduled flights to Spain, Gibraltar, Portugal and Cyprus from Birmingham, London Gatwick, London Luton and Manchester airports. In addition to year-round low fares, Monarch also offers a unique range of tasty hot and cold meals onboard with prices from £3.00. To enable customers to select where in the cabin they sit and ensure that families and groups sit together, seats can be pre-booked from £7.50 per one-way flight, or from only £15, extra-legroom seats are available, which offer up to six inches of extra space.
Passengers travelling on scheduled flights can also avoid the queues at the airport and take advantage of online check-in which is available between seven days and 4.5 hours prior to departure.
In addition to flights, Monarch also now offers a huge range of great value holidays, accommodation options, car hire and travel insurance.
For further information or to book Monarch flights, Monarch Holidays or Monarch Hotels, visit monarch.co.uk.
* Services to Gran Canaria commence on Monday 19th October 2009 with weekly services (Mondays) from Birmingham and up to two flights a week (Mondays and Saturdays) from Gatwick and Manchester
Services to Fuerteventura commence on Wednesday 21st October 2009 with weekly flights (Wednesdays) from Birmingham, Gatwick and Luton and up to two flights a week (Wednesdays and Saturdays) from Manchester