Suzuki helps beat the VAT rise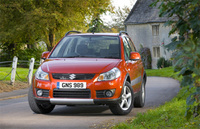 Suzuki has announced some further enhancements to its popular finance offers. With immediate effect, and well ahead of the proposed VAT return to 17.5 per cent, customers who purchase any new Suzuki with Suzuki Finance on a Hire Purchase agreement can have the option to defer their first payment for three months, making a 2.5 per cent saving if a purchase is made by the end of the year. A minimum deposit of 10 per cent is required and payments can be made over 24, 36 or 48 months.
As an alternative; PCP (Personal Contract Purchase) which offers customers a low deposit, low monthly payment scheme together with a final payment to keep the car at the end of the agreement have also been improved with the minimum deposit on Swift Driveplan reduced from 15 to just 10 per cent.
Taking the Swift 1.5 GLX three door model as a PCP example and purchased under the Government scrappage scheme; no further deposit is required and monthly payments are from £130.90, payable over three years. The APR for Swift on the PCP scheme has also been reduced to just 4.9% from 6.3% previously. Suzuki Financial services can also offer flexible and competitive schemes to suit an individual customer requirement.
Suzuki is also continuing the zero per cent finance offers on selected Swift, Splash, SX4 and Grand Vitara models until the end of the year. Swift requires a 30 per cent deposit; Splash and SX4 require 50 per cent and Grand Vitara 40 per cent.
The Government scrappage scheme continues to be a success for Suzuki with 8,600 orders taken and more than 7,700 already delivered to customers.
For more information on the Suzuki product range visit suzuki4.co.uk.