Suzuki ends first half of FY2009 in profit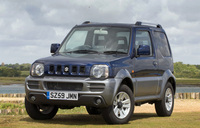 Suzuki Motor Corporation survived the ongoing severe market conditions to keep in the black in the first half (April through September) of the 2009 fiscal year.
With the strong effect of the deteriorated world economy still apparent, as well as decreased domestic and overseas sales units together with the yen's appreciation, Suzuki's sales revenue equated to 1.18 trillion yen, down by 31 percent from the previous first half year period, a result close to that of five years earlier.
Despite a decrease in sales and operating profit as well as in ordinary and net profit over the previous first half year period, Suzuki managed a surplus of 31.8 billion yen operating profit and 12.5 billion yen net profit by holding down business investments and carrying out cost reduction measures.
Sales of Suzuki motorcycles were seriously affected by the aggravated economy, and the result was 1.43 million units (25 per cent decrease from the previous first half year period) and sales of 142.5 billion yen (49.6 per cent decrease).
Automobile sales, also affected by the currency exposure and global recession, were 1.11 million units (6.7 per cent decrease) and 1.03 trillion yen in revenue (27.3 per cent decrease). However, some countries in Europe and Asia saw Suzuki's sales volume increase, taking advantage of their governments' incentives, and overall these two regions managed an increased profit, along with the efforts made by the regions' subsidiaries in reviewing and reducing expenses.
Based on this half-year result, Suzuki Motor Corporation has raised the operating profit forecast for the year to 40 billion yen from 10 billion, and to 15 billion yen net profit from 5 billion, though the company remains at the originally forecasted 2.3 trillion yen for sales.