Volvo's new Euro 5 D5 diesel engine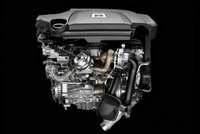 Volvo Cars is introducing a new 2.4-litre 5-cylinder diesel engine in the Volvo S80. Sharing only the D5 badge and the five-cylinder configuration with the previous generation, the new engine is now Euro 5 compliant and is significantly more efficient than its predecessor. The new D5 engine will be available in the UK from mid-2009 and pricing and specifications will be announced nearer the time.
With innovative engineering solutions such as sequential twin turbochargers, ceramic glow-plugs and piezoelectric fuel injectors, Volvo's engineers have succeeded in cutting fuel consumption to some of the lowest levels for a car of this size – 45.6mpg, while CO2 emissions are only 164g/km. These low levels of fuel consumption, in combination with improved power output of 205hp and 420Nm of torque, mean the Volvo S80 with D5 engine is bidding for the best in class title.
"Our brief was to develop a modern performance diesel engine that meets the Euro 5 standard," says Derek Crabb, Vice President, Powertrain Engineering. "The previous engine has undergone constant development but has now reached the end of its potential. We therefore decided to start with a clean sheet of paper and harness the advanced technology which we have access to today. The result is even better than we dared hope. What is more, this engine has been developed entirely in-house at Volvo."
Performance and driving comfort of top class
Volvo's new D5 engine has a displacement of 2.4 litres, offering power and response as soon as the accelerator is depressed. The performance and driveability enhancements have been made with the use of twin different-sized turbochargers that operate in sequence to provide added power within a broader rev range. The result is an immediate response and rapid acceleration at all speeds, with smooth power delivery between the two turbo ranges.
At lower rev ranges, the smaller turbocharger ensures rapid acceleration without any perceptible lag, while at higher ranges, the larger turbocharger delivers the high levels of power torque not available with a single unit. This power means there are always ample resources for quick overtaking, particularly between 50 and 75 mph.
This twin-turbo technology has also made it possible to introduce higher levels of exhaust gas recirculation (EGR) across a wider rev range than before. This harnesses the two turbochargers' different properties optimally to deliver high performance and low fuel consumption.
Advanced injection technology using piezoelectric fuel injectors provides precise distribution of the atomised fuel in the combustion chamber, resulting in efficient combustion and low emissions. At the same time, this technology and the efficient combustion deliver a refined engine note, bearing a closer resemblance to the noise of a six-cylinder petrol engine. The engine offers excellent results in terms of noise comfort and noise perception, technically known as NVH or Noise, Vibration and Harshness.
The injection system with its piezoelectric fuel injectors and high-efficiency fuel pump also help cut fuel consumption through extremely rapid and precise injection sequences and high injection pressure, resulting in particularly effective combustion.
Lower fuel consumption
"When the project got under way, our goal was to bring fuel consumption down to 44.1mpg in the Volvo S80, which, after all, is a relatively large car," recalls Derek Crabb. "As the work progressed, we saw that we could beat that target and today we are actually up to 45.6mpg. With an automatic gearbox we have been able to reduce the consumption by more than 8 percent, from 38.7 to 42.2mpg, which is a significant improvement."
Low emissions and easy breathing
"The technical solutions that contribute to this low fuel consumption also help reduce the engine's environmental footprint," explains Derek Crabb. "Reducing emissions and particulates was one of the basic requirements when the new engine was being developed."
In addition to twin turbochargers, piezoelectric fuel injectors and improved EGR control, the new D5 engine has been equipped with ceramic glow-plugs, an innovative solution that delivers excellent cold-starting properties thanks to a very quick warm up period. They reach a temperature of 1000 degrees Celsius in just two seconds, making the engine easy to start and thus cutting emissions. In certain driving conditions, such as at very low revs, the heat generated by the ceramic glow-plugs can also be used to increase the temperature in the cylinders, further improving combustion efficiency.
The advanced injection technology makes it possible to supply additional fuel in tiny increments after the main injection charge, a process known as post-injection, with the aim of removing any soot particulates in the exhaust gases.
In order to ensure low particulate emissions, the engine has to be able to breathe easily and efficiently. And here Volvo's engineers have succeeded again thanks to optimised control of air delivery to the cylinders.
Three years from project start to delivery
The new five-cylinder diesel is the first engine from Volvo's new project office for diesel engine development.
"The entire process from receiving the brief to installing the first engine in a car has taken less than three years," says Derek Crabb. "The aim was to develop a diesel engine with performance and driving comfort that satisfied the high demands of customers in the S80 segment. It also had to be tailored to meet forthcoming strict environmental requirements," he added.
The engine was developed on a modular basis in terms of both design and building method, using standardised mountings for the turbochargers and other components. This makes it easier to install in other Volvo models and gives more scope for further development to meet future demands.