CityJet celebrates company milestone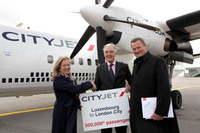 CityJet celebrated an important milestone in the company's history last month by carrying the 500,000th passenger on its service between Luxembourg and London City Airport.

In recent months, traffic numbers on the route have risen substantially. This is probably one of the early signs of a recovering economy.

With the launch of the non-stop service between Luxembourg and London City Airport 11 years ago, VLM Airlines (now CityJet), was the first airline to operate a direct connection between these two major European financial centres. The route was initially operated in partnership with Luxair.

In 2003 the regional airline started flying the route independently. Since then the passenger figures have risen gradually. This year the airline will carry more than 60,000 passengers on this route. The service between Luxembourg and London City Airport is one of the three best performing routes on the CityJet network.

In the first half of 2009 traffic was lower than the previous year because of the economic crisis, but since end of August, CityJet has recorded an important increase in the number of carried passengers. Last month CityJet broke its all-time passenger record on the route between Luxembourg and London City Airport.

"The increase of the number of passengers on typical business routes is probably one of the first signs that the financial sector and the economy in general are recovering. It is CityJet's focus to offer time-saving travel solutions, coupled with a high level of service to our passengers. This recipe is clearly very popular with business travellers between London City Airport and the capital of the Grand-Duchy", says Johan Vanneste, CEO VLM Airlines.

"Having reached the important milestone of half a million passengers on this route makes all of us at CityJet very proud."

Laurent Petitmangin, Head of Sales & Marketing, CityJet, added: "Currently we operate three return flights each weekday and one flight on Saturday and Sunday. We also offer convenient onward connections to Dublin, Edinburgh and Dundee. London City is the only London airport, which is conveniently located close to the centre of the British capital. The CityJet product is actually the best blend of two worlds: the entrepreneurial and challenger spirit of CityJet for a tailor-made experience combined with strong features of the Air France KLM Group such as the Flying Blue loyalty programme."

Martin Flint, Director at Risk Analysis was the 500,000th passenger travelling from Luxembourg to London City. He was welcomed at the airport by Mr. Fernand Brisbois, CEO of Luxembourg Airport and Catherine Stuyck, Communication Manager at CityJet.

Mr. Flint said "I thoroughly enjoy flying with CityJet from Luxembourg to London City. This airline offers an impeccable service and I know I can rely on their excellent punctuality. I look forward to receiving their continued commitment to the Luxembourg market for many years to come. Certainly City Airport is the closest airport to Central London and is much more convenient to reach than Heathrow or Gatwick when I travel over to visit our representative office and clients in Luxembourg "

To celebrate its 500,000th passenger on the route, CityJet introduced to all other passengers flying from Luxembourg to London City Airport a one-way fare starting from EUR39. The special fare includes all taxes and charges and applies for bookings between 25th November and 6th December 2009 for flights between 30th November 2009 and 27th March 2010.