Audi A8 with Google Earth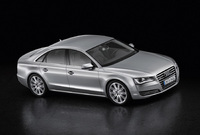 Vorsprung durch Technik will come to the fore yet again in 2010 as exciting new technological advances make their debut in the new Audi A8, not least of which being the option of Google information services channelled to the new luxury flagship via the internet.
The state-of-the-art online services allow the new A8 to retrieve up-to-date information from the internet via an optional integrated GPRS/EDGE modem in the latest generation MMI navigation plus. The user can search online with Google for points-of-interest directly from within the MMI, the versatile search engine accepting such free text search queries as "delicatessen" or "shoe boutique". The results are then displayed on the onboard map or used as destinations for route calculation. A8 customers can also plan their navigation destinations in Google Maps or the Audi web portal at home or in the office and retrieve these on demand in the car.
In mid 2010 Audi will further enhance its suite of online services with a new UMTS modem. This enables faster data transfer as well as simultaneous voice and data connections, and allows Audi to set a world first with the integration of Google Earth in the MMI navigation plus.
With Google Earth on the MMI's 8 inch LCD display the new Audi A8 allows its occupants to discover the world from above through high resolution three-dimensional satellite and aerial imagery for the entire globe, backed up by a worldwide database of photos and information articles. The Google Earth imagery and 3D terrain model are combined with the detailed street network from the onboard navigation database in a seamless integration of online and offline content.
To use the new online services the customer simply needs to insert their SIM card in the MMI Navigation plus or pair their mobile phone with the MMI over the Bluetooth SIM-Access-Profile. Aside from the Customer's existing mobile phone data plan, no additional contracts are required.
The latest multimedia interface (MMI) navigation plus system that is an integral part of the new A8 features a highly evolved operating concept incorporating a touchpad – known as MMI touch. Also included are an integrated hard disk for navigation, phone and audio data and a graphics processor capable of generating high-quality, three dimensional images. The MMI analyzes navigation data predictively, relaying information to the control units managing the automatic cruise control with Stop & Go, adaptive lights and the 8-speed tiptronic gearbox so that these systems can precisely adapt their function to conditions well in advance.
First shown as a prototype with Google in January 2006 at the Consumer Electronics Show in Las Vegas, USA, the new online services can be experienced in the new A8 as a result of a close collaboration between Audi and Google development teams worldwide.