Iveco Daily 4x4 proves to be just what the doctor ordered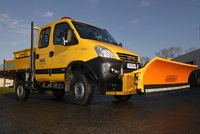 The NHS in Fife has become the first operator in the UK to take delivery of Iveco's new Daily 4x4, which is built specifically to tackle off-road missions, uneven ground, steep gradients and slippery tracks.
The heavy-duty Daily 55S18DW replaces a five year old Multicar and will be used during the winter months to clear snow from access roads and car parks across five NHS sites in Fife using a snow plough attachment manufactured by J.A. Cuthbertson. Its dropside body is also mounted with a SnowEx 7500 grit spreader.
At other times of the year the snow plough and spreader can be removed, allowing the Daily to take on an agricultural role assisting with grass cutting and hedge trimming on NHS property. A tow bar also allows the Daily to pull a mobile shredder which can be used to create chippings from trees and branches felled on-site.
Jim McIlroy, Transport Officer for NHS Fife, explains: "We wanted to replace the Multicar with a vehicle we could utilise fully across our operations and the Daily 4x4 is just the ticket. It's going to prove especially useful for more arduous applications where a regular car or truck just isn't suitable.
"Our interest in the Daily stemmed from a driving appraisal we read in the trade press following the vehicle's international launch. As soon as we saw it we knew it would make the ideal fleet replacement, and since it entered service we have been very pleased with its performance. The drivers think it's the absolute bee's knees!" he adds.
"Maintaining access to NHS facilities in the winter months is absolutely essential, and having the Daily 4x4 allows us to keep roads and car parks on-site clear, whilst the Council's focus is on moving snow from public highways," says McIlroy.
Supplied by North East Truck & Van on a six year agreement from Automotive Leasing, the bright yellow 5.5 tonne Daily 4x4 is expected to clock-up approximately 10,000 miles a year and will be based at Lynebank Hospital in Dumfermline. It will be serviced and maintained throughout its projected six year life on the fleet by local Iveco dealer AM Phillip.
The Daily features a factory-built crew cab providing seating for six passengers and a driver, with the cab interior featuring a number of additional fitments which are unique to the 4x4 model. These include the addition of driver and passenger assistance handles to aid entrance to and egress from the cab, coupled with differential lock switches and transfer box controls mounted within easy reach of the driver.
Powering the Daily 4x4 is a 3.0 litre Iveco HPT engine which is capable of producing up to 400 Nm of torque over an engine speed range of 1,250 to 3,000 rev/min, and a maximum 176 hp between 3,200 and 3,500 rev/min.
This is coupled to a ZF 6S400 overdrive six speed transmission that drives through a transfer box which provides continuous four wheel drive. The transfer box houses a third differential and a differential lock as standard equipment, with the controls allowing either high or low drive ratios which can be selected with the vehicle in motion. There are also neutral and low range off road ratios for arduous conditions selectable with the vehicle at rest. This ensures the Daily has a choice of 24 forward drive gears (12 for mixed routes and 12 for off-road routes) and four reverse gears.
Stopping power is provided by twin piston disc brake sets, together with an Antilock Brake System (ABS) as standard to ensure that the vehicle is brought to a halt in complete safety during more demanding braking operations and difficult manoeuvres. When operating in mud or snow, the ABS is automatically deactivated which is necessary when engaging the differential lock.