Saint Lucia resort brightens up winter with last minute deals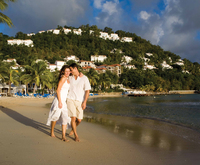 The award-winning Windjammer Landing Villa Beach Resort in Saint Lucia is offering a series of last minute winter deals to guests who want to escape the winter chill.

When Caribbean holidaymakers book a January 2010 all-inclusive holiday, they will pay rates as low as £250 all-inclusive per night based on double occupancy.

This is an additional saving of approximately £60 per night on top of already reduced rates of up to 50 percent, as part of the winter savings offers at the resort.

Guests will also receive sun dollars, which are exclusive resort credits which can be used for room upgrades, fine wine, spa treatments, island excursions and much more. Sun dollars are awarded as follows: £30 per night for one bedroom suite or villa, £60 for a two bedroom suite or villa, £90 for a three-bedroom villa and £120 for a four-bedroom villa.

Anthony Bowen, managing director of Windjammer Landing, said: "At this cold time of year, people crave our Caribbean sunshine. We're giving guests the perfect holiday gift by reducing our all-inclusive packages by an additional £60 per couple, per night during January 2010. Our warm, top-notch service provides a holiday experience that is unmatchable in the Caribbean."

Windjammer Landing Villa Beach Resort is set on a crescent-shaped sandy beach with stunningly-designed suites and villas spread across 60 acres. The resort is celebrating its 20th anniversary this year and is the perfect retreat for couples and families.

To take advantage of the winter deal offers, holidaymakers can book directly with the resort by emailing tanise@windjammer-landing.com. Departure must take place on or before January 31 2010.

For more information, visit windjammer-landing.com.