Buying new in North Cornelly is easy with Redrow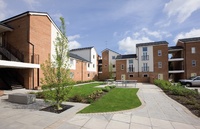 With house prices showing steady monthly increases now could be the time to invest in a brand new home.

And with 'easi:buy' from Redrow you can defer payment on up to 25% of the purchase price on selected homes at Debut @ Dôl Gorwel in North Cornelly.

Rachael Davies, area sales manager for Redrow Homes (South Wales), said: "Debut @ Dôl Gorwel is the perfect place to make your first step onto the property ladder and with easi:buy purchasers can enjoy all of the benefits of a well designed, quality built and efficient-to-run Redrow home, for three quarters of the price."

One of the major advantages of easi:buy is that buyers only have to apply for a mortgage which represents 75% of the full value of the property – hopefully giving them access to some of the best interest rates around. They will receive a 10-year interest free loan from Redrow for the remainder and shouldn't have to find a large deposit.

"It's the ideal solution for first-time buyers who would otherwise have been priced out of the property market and is also open to those who simply want to defer paying part of the cost of their new home until they have funds available," Rachael commented.

"easi:buy customers own their property 100% from day one but are only financing three quarters of the purchase price, so they should get a much better choice of value for money mortgage deals."

A selection of one and two-bedroom homes are currently available at Debut @ Dôl Gorwel, priced from £58,000 to £92,000.

The deferred payment element of easi:buy means that a one-bedroom single storey 'D2' style home could be yours for an initial outlay of just £43,875, while those who need that extra bit of space can snap up a two-bedroom two storey 'D5' home with study for £69,000.
"Over the latter half of 2009, two of the UK's leading lenders, Halifax and Nationwide* both reported consecutive month on month house price rises and if the trend continues those who invest in a new home now could see the value increase even before they move in," Rachael said.

easi:buy is subject to terms and conditions and the deferred element is paid back ay market value at the time of payment, which could go down as well as up.

"The Debut concept means buying and running your own home couldn't be simpler," added Rachael.

"Not only can you defer part of the cost, a single monthly service charge means buyers investing in Debut @ Dôl Gorwel don't have to worry about budgeting. There are no surprise bills as the cost of heating, hot water and even window cleaning are included in the fee."

Private gardens have been replaced with contemporary shared outdoor space – looked after by Redrow's own management company – inspiring a sense of community and leaving homeowners with little to worry about other than themselves.

Close to Bridgend and Porthcawl, Debut @ Dôl Gorwel is set in an excellent location on the doorstep of Kenfig nature reserve and the South Wales beaches. Midway between Cardiff and Swansea, it boasts easy access to the M4.

For more information about easi:buy and the homes available at Debut @ Dôl Gorwel visit the sales and marketing suite in North Cornelly, open daily from 10am to 5.30pm, or log onto redrow.co.uk.

* nationwide.co.uk / halifax.co.uk